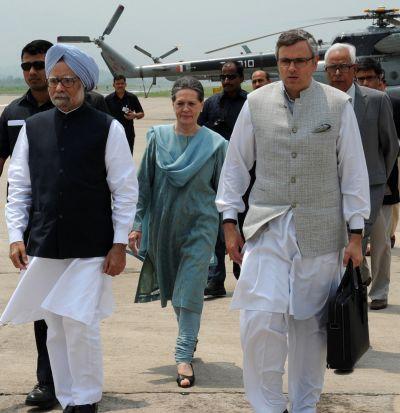 Prime Minister Manmohan Singh and United Progressive Alliance Chairperson Sonia Gandhi arrived in Kasmir on Tuesday morning.
Their visit came within hours of a deadly militant attack at an army convoy that left eight soldiers dead and 11 others wounded in Srinagar.
Dr Singh flew into the mountainous Kishtwar town in Jammu region amid tight security to lay the foundation stone of the Rs 6000 crore 850 MWS power project.
Dr Singh and Gandhi are scheduled to arrive in Srinagar today afternoon.
They are on a two-day visit to the state to review the progress of development projects in the state and commission the Qazigund-Banihal Railway Tunnel, billed to be the longest in India.
The rail link between Kashmir valley and Jammu region is the first of its kind and provides an additional link between the two regions of the state.
Srinagar has been placed under a tight security lockdown. Road intersections have been barricaded with coils of razor-fitted wire and only skeletal vehicular and pedestrian movement is being allowed.
Strict restrictions have been put in place in Srinagar in the wake of the deadly militant strike in Srinagar.
The injured soldiers are undergoing treatment at the army hospital in Srinagar.
The fleeing militants had struck again at Barzalla, near the site of the in the vicinity of the first attack, injuring an officer of the Central Reserve Police Force and a policeman.
The Hizbul Mujaheedin had claimed responsibility for Monday's twin attacks in Srinagar.
The security measures are more stringent in the old city area, where the residents have been confined to their homes and no movement is being allowed.
Security personnel are checking passing vehicles at several barricaded points in uptown Srinagar.

The restrictions and the call for a shutdown by the seperatists have paralysed life in Srinagar and other towns.
Image: Jammu and Kashmir Chief Minister Omar Abdullah receives Prime Minister Manmohan Singh and Congress chief Sonia Gandhi in Srinagar on Tuesday
Photograph: Umar Ganie