A celebrated swimming pool painting by the British modern artist David Hockney sold for $90.3 million (approximately Rs 650 crore) in New York on Thursday.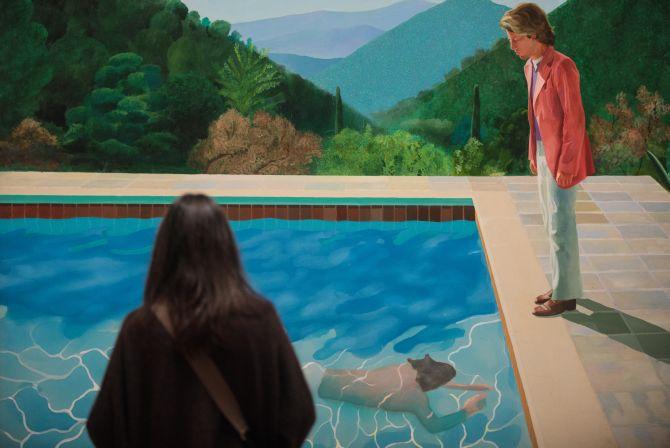 The 1972 painting, "Portrait of an Artist (Pool with Two Figures)," broke the record for the most expensive piece of art sold at auction by a living artist.
The artwork depicts two men at a pool with lush mountains in the backdrop.
It sold after more than nine minutes of frenzied bidding.
Reports state that the painting was executed during a three-month period of intense creativity after the artist broke up with his American art student lover, Peter Schlesinger.
Many viewers assume that the scene is set in California, where Hockney has lived for decades. But the canvas was painted in London, based on photographs taken at a pool in the South of France. The standing figure is derived from photographs the artist took of Schlesinger in London's Kensington Gardens.
Christie's had estimated the 1972 oil painting at $80 million and called the Hockney "one of the great masterpieces of the modern era".
"We rarely can say, 'This is the one opportunity to buy the best painting from the artist.' This is it," Ana Maria Celis, vice-president of postwar and contemporary art at Christie's, had said before the sale.
The sale of Hockney's painting surpassed the previous record held by American artist Jeff Koons, whose massive, stainless steel piece Balloon Dog (Orange) sold for $58.4 million (Rs 420 crore) at a Christie's New York auction in November 2013.
The single most expensive piece of art ever sold at auction was the eye-watering $450.3 million (Rs 2,940 crore) paid for Leonardo da Vinci's Salvator Mundi last year at Christie's in New York.