Kishore Singh on Jean-Michel Basquiat and his worth.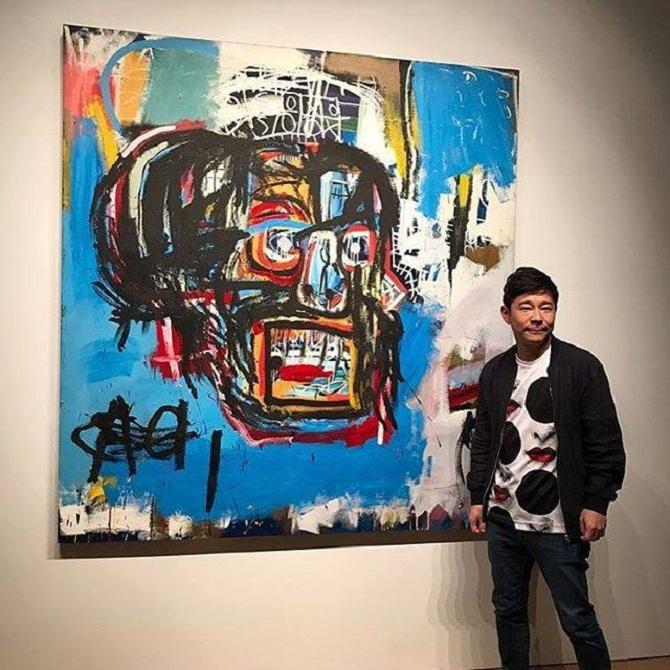 IMAGE: Yusaku Maezawa paid twice the estimate to walk away with his Basquiat prize.
Basquiat's paintings are disquieting, often consisting of heads of warriors, priests, kings, sportsmen, musicians in a rictus of pain or death. Photograph: Kind courtesy @sothebys/Facebook
By now, unless you've been living under a rock, everyone knows that the highest price ever paid for a work by an American artist, and for a painting made post-1980, was by a Japanese billionaire, who bested his own previous record of $57 million last year by paying $110.5 million for a Jean-Michel Basquiat at a Sotheby's auction.
For decades, works by Claude Monet, Paul Cezanne, Paul Gauguin, Alberto Giacometti, Edvard Munch, Amedeo Modigliani, Pablo Picasso, Francis Bacon -- all European artists -- have been walking off with absurdly high records that make the Basquiat seem like a beginner, but the value of the Untitled work painted by the coloured American in 1982 has become a talking point for its worth.
Is it really worth the price?
You could be forgiven for asking 'Basquiat who?'
The Brooklyn-born artist began his career as part of an informal graffiti duo SAMO ("same old") who left their signature footprints over walls in Manhattan's Lower East Side and died tragically young of a heroin dose.
At 28 in 1988, he was the same age as Amrita Sher-Gil at the time of his death, but his life had taken more turns, most noticeably as a rock musician.
It was then that he had befriended Andy Warhol at a restaurant and showed him some of his work, famously leading to a collaboration a few years later.
By then, he had begun making his mark as an artist, showing at the Times Show Gallery in New York in 1980 (he was just 20 then), and working out of basements at the Annina Nosei and Gagosian galleries to create works for sellout exhibitions.
It didn't do him harm that Madonna was his girlfriend at the time.
Basquiat's paintings are disquieting, often consisting of heads of warriors, priests, kings, sportsmen, musicians in a rictus of pain or death; they also feature writings that reference the slave trade, as well as collages, a visual assault in bright colours of neo-expressionist horror that overpowers anything else around it.
If human entrails and internal organs are on display, they can be blamed on Gray's Anatomy, the medical book his mother gave him when he was confined to bed at the age of eight following an accident.
His mother's own incarceration in a mental asylum when he was a teenager must have added to his anguish and found a reflection in his work.
IMAGE: With the Sotheby's auction Jean-Michel Basquiat unseated Andy Warhol as America's most expensive artist. Photograph: Kind courtesy Wikimedia Commons
The only parallel I can pull out of India is Rabin Mondal who, like Basquiat, became interested in painting following a bout of illness that confined him to his bed as a child.
Like Basquiat, he has been attracted to the primitive urges surrounding authoritarianism and the canker of corruption that limns it.
Like Basquiat, Mondal painted heads and figures of priests, kings, queens and deities, their aura of power diminishing their humanity.
Both artists had a disdain for the market, though the former found it in his own lifetime, while Mondal is still chasing relevance in the Indian mainstream.
It is telling that both their views are ironically similar.
Basquiat waived off criticism saying, 'I don't listen to what art critics say. I don't know anybody who needs a critic to find out what art is.'
And Mondal said, 'I'll just continue with my art regardless of what people like.'
Yusaku Maezawa, the 41-year-old millionaire who beat the odds and paid twice the estimate to walk away with his Basquiat prize, has one thing in common with the artist. He is a punk rock musician too.
It's another matter that Basquiat also bested his one-time model, and top selling American artist, Andy Warhol, smashing past his $105 million record.
Kishore Singh is a Delhi-based writer and art critic.
These views are personal and do not reflect those of the organisation with which he is associated.