Salvator Mundi, a portrait of Jesus Christ, was once bought for $59.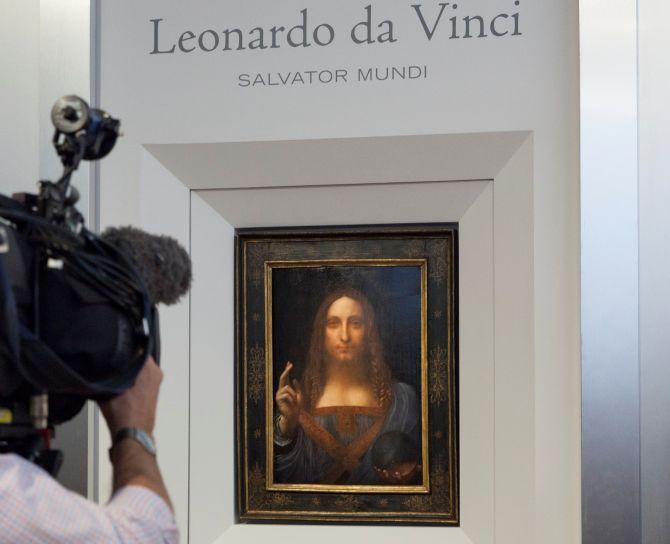 Leonardo da Vinci's painting, Salvator Mundi has become the most expensive artwork to ever sell at an auction, going for $450.3 million at Christie's in New York.
The whopping price dwarfed the previous record for the most expensive piece of art sold at an auction, set at $179.4 million for Pablo Picasso's The Women of Algiers (Version O) by Christie's in 2015.
The identity of the winning bidder was not known.
The auction house says Salvator Mundi or Savior of the World is one of fewer than 20 Da Vinci paintings in existence that are generally accepted as from the Renaissance master's own hand.
All other known paintings by Da Vinci are held in museum or institutional collections.
Billed by the auction house as 'The Last da Vinci', the painting spent centuries in obscurity until it was rediscovered in 2005 and underwent a six year restoration and verification process.
The small piece depicts Jesus raising his right hand in blessing and holding a crystal orb, meant to represent the world, in his left, dates to about 1500, the last privately owned Leonardo da Vinci paintin
"An historic moment here. We'll wait," said auctioneer Jussi Pylkkanen in a brief pause in bidding at $300 million.
He eventually hammered the painting at $450 million. The final price came to $450.3 million including the buyer's premium.
Salvator Mundi's path from Leonardo's workshop to the auction block at Christie's four centuries later was not smooth.
Once owned by King Charles I of England, it disappeared from view until 1900 when it resurfaced and was acquired by a British collector for $59. At that time, it was attributed to a Leonardo disciple rather than to the master himself.
The painting was sold again in 1958 and then acquired in 2005, badly damaged and partly painted over, by a consortium of art dealers who paid less than $10,000.
The art dealers spent five years to restore the painting which they eventually documented as an authentic da Vinci.
The painting was sold on Wednesday, November 15, by Russian billionaire Dmitry Rybolovlev who bought it in 2013 for $127.5 million in a private sale.
Christie's says most scholars agree that the painting is by Leonardo though some critics have questioned the attribution and some say the extensive restoration muddies the work's authorship.
IMAGE: Salvator Mundi, now the most expensive painting in the world. Photograph: Christie's New York/via Reuters