The 'Artery Top 500 Works' list features the most expensive Indian works of art that have been sold since modern Indian artwork was first included in a mainstream international auction in the mid 1960s.
Their collective realised price? $367.9 million!
As the demand and value of Indian artists grows internationally, Monali Sarkar looks at the record setters.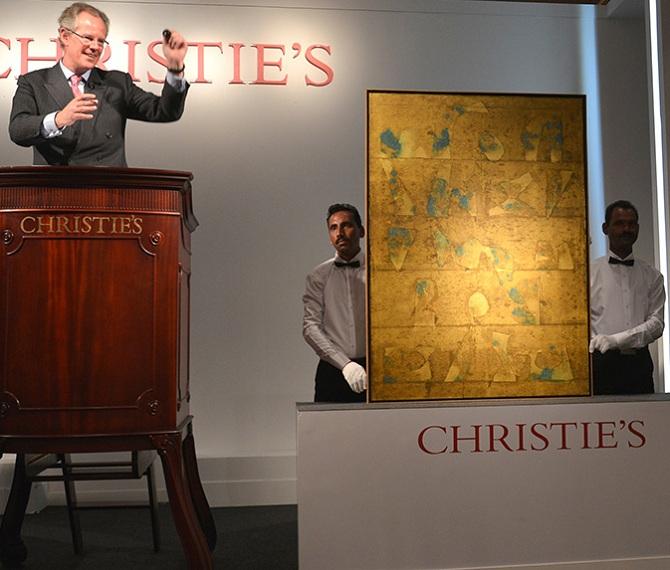 $4,415,008
Untitled: Vasudeo S Gaitonde
Gaitonde topped this list after an untitled painting of his was bought by an anonymous buyer at a Christie's, Mumbai, auction for $4,415,008 in December 2015.
This oil on canvas by one of India's foremost abstract painters is the most expensive Indian artwork to be sold since 1965, according to Artery India, an art market intelligence firm.
The Artery list consists of 32 artists -- 17 Modernists, 5 Pre-Modernists, and 10 Contemporaries.
The artworks that made it to the list were sold at global auctions since 1965 -- the year that marked the first inclusion of a Modern Indian artwork in a mainstream international art auction.
They have been ranked according to their realised sales prices (inclusive of buyer's premium) in US dollars.
Their collective realised price is $367.9 million (Rs 1,936.6 crores/Rs 19.366 billion).
Photograph: Kind courtesy Christie's
---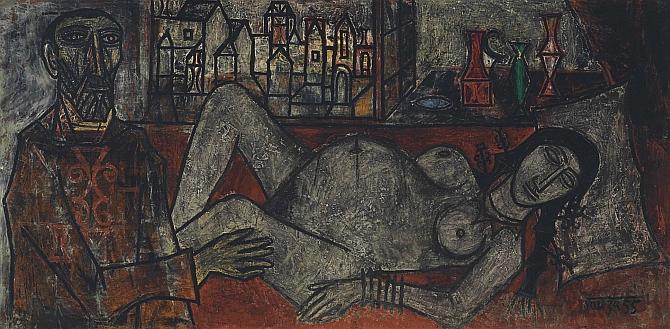 ​
$4,085,000
Birth: Francis Newton Souza
This oil on board, painted by Souza in 1955, sold for a sum north of $4 million at a Christie's, New York, auction in 2015.
Birth is considered one of the most important paintings of the Goa-born artist's career and was included in his first solo show at Gallery One in London.
Interestingly, this painting was sold at a Christie's auction in 2008 for $2.5 million -- then a record price for a work of modern Indian art.
Artery founder Arvind Vijaymohan said in a statement, 'The Indian art market has witnessed exponential growth since 2001. Following the predictable repercussions of the art fund wave that at its outset heavily polluted, and thereon, purified the art market operations, we are now on a path that spells slower, albeit stable growth.'
---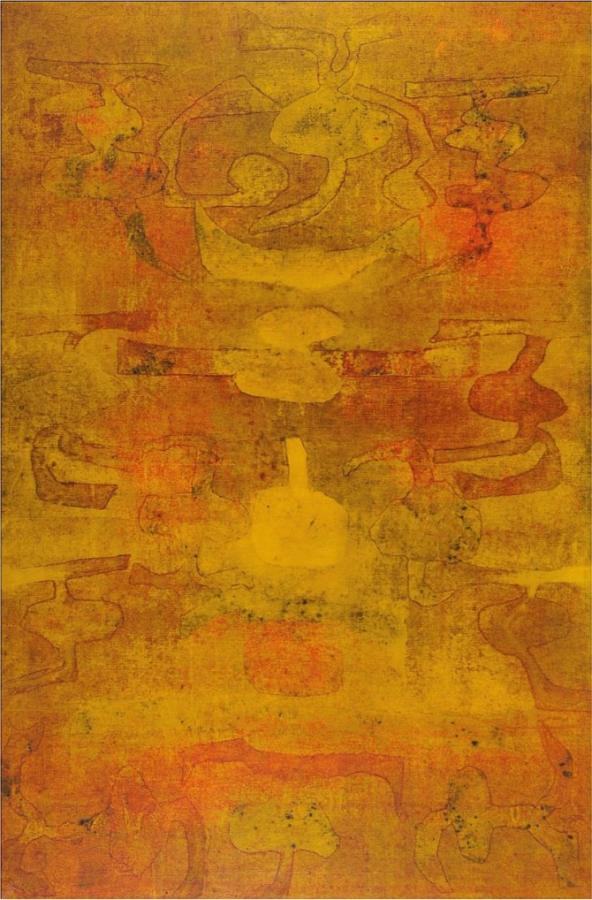 $3,792,400
Untitled: Vasudeo S Gaitonde
This 1979 painting was one of Gaitonde's earliest works -- done soon after he graduated from the J J School of art.
The painting, bearing his signature in Hindi, went to a private collector from the US.
The sale of this oil on canvas in 2013 kicked off Christie's first auction in India with a world record for modern Indian art.
While 11 auction houses find mention in 'Artery Top 500', out of the top 10 works, 7 were sold by Christie's, 2 by Pundole's and 1 by Sotheby's.
---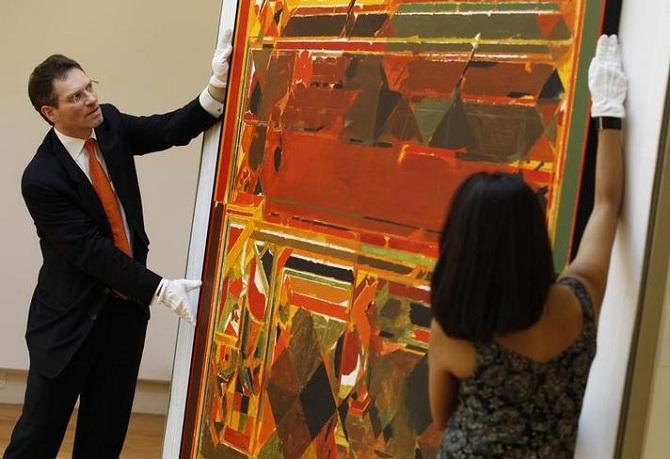 $3,486,965
Saurashtra: Syed Haider Raza
The auction of this acrylic on canvas by Christie's, South Kensington, in 2010 was a record setter then.
The price was owed to the fact that Raza himself considered this to be one of the 10 most important works of his life.
Saurashtra was painted in 1983 after Raza had already explored Ecole de Paris and Abstract Expressionism, and had begun to incorporate elements of his Indian heritage into his art.
The auction allowed a private Indian museum to bring the painting back to India.
Photograph: Suzanne Plunkett/Reuters
---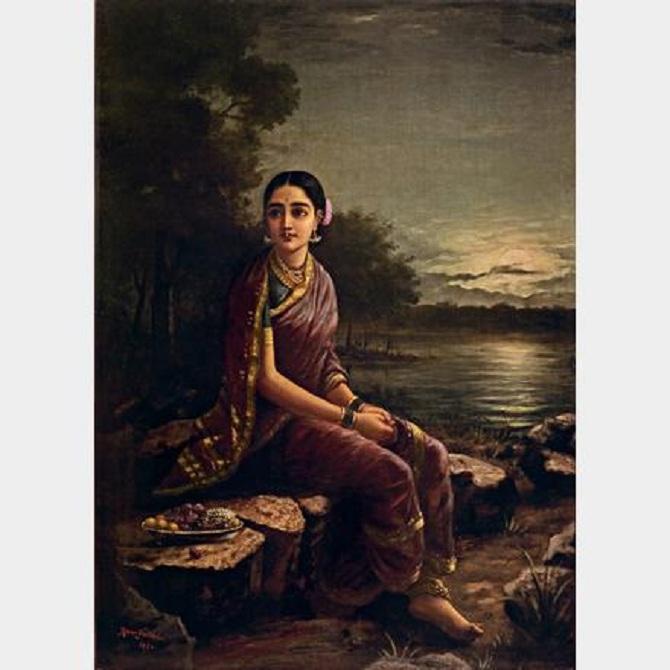 $3,387,900
Radha in the Moonlight: Raja Ravi Varma
This 1890 oil on canvas was originally in the collection of Shungrasoobyer Avergal, the dewan of Travancore. It was inherited by his great-grand children who sold it to the current owner.
According to Pundole's, which auctioned the painting in 2016, 'This particular Radha is conceivably one of the most beautiful of Ravi Varma's uttama nayikas, the high-minded women of many virtues and qualities that are intrinsic to goddesses and women in classical Indian literature... Varma subsequently painted other canvases of Radha in varying moods and emotions.'
Photograph: Kind courtesy Pundole's
---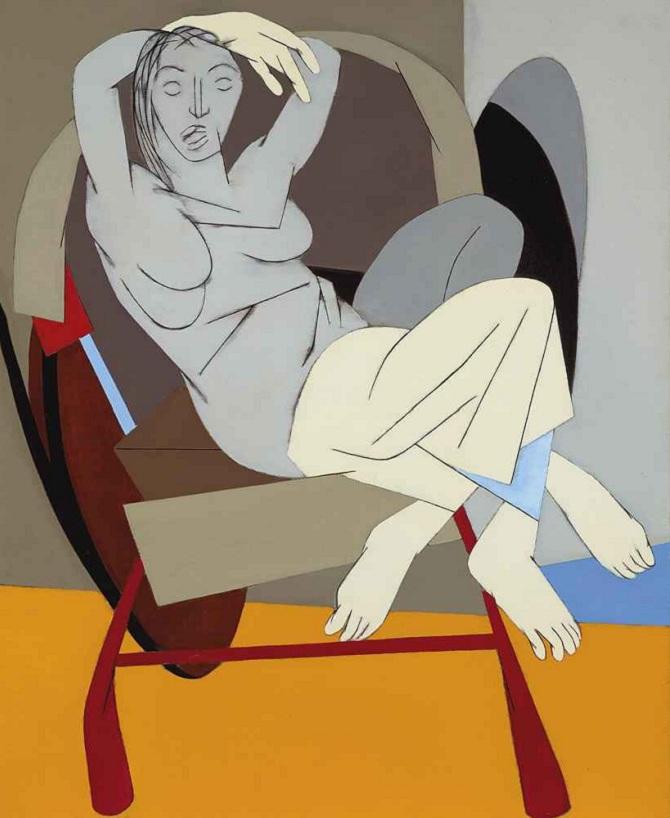 $3,240,077
Untitled (Figure on Rickshaw): Tyeb Mehta
Mehta, a key member of the Bombay Progressive Artists Group, was inspired by the rickshaw pullers he'd see during his annual summer holidays in Kolkata.
The oil on canvas was sold by Christie's, South Kensington, in 2011.
The earliest and oldest record to qualify within the Artery list is Tyeb Mehta's Celebration, which was sold by Christie's, New York, in September 2002.
The painting ranks 473 on the list, with a realised price of $317,500.
Photograph: Kind courtesy Christie's
---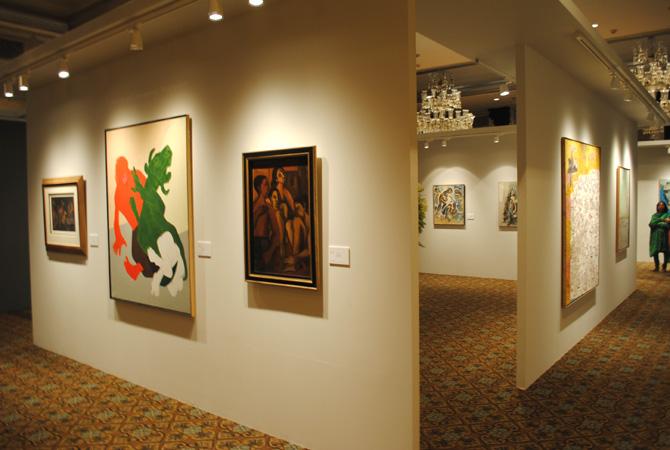 $3,165,200
Mahishasura: Tyeb Mehta
This acrylic on canvas, pictured centre, was sold by Christie's, Mumbai, in 2013.
Mehta has several other million dollar paintings to his credit, including Kali and Untitled-Falling Bull.
Photograph: Reuben NV/Rediff.com
---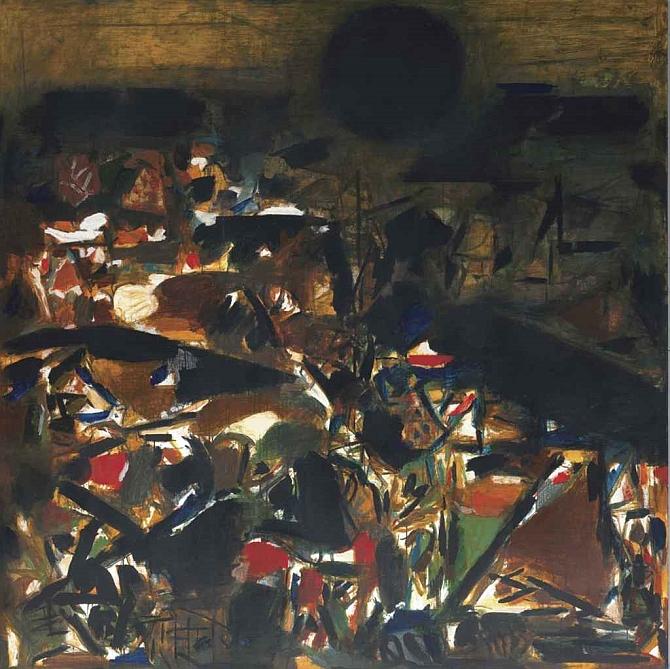 $3,105,000
La Terre: Syed Haider Raza
Raza's acrylic on canvas sold for $2.54 million in 2008 and appreciated by more than half-a-million dollars when it was auctioned again by Christie's, New York, in 2014.
Raza, a modernist painter and one of the pioneers of the Bombay Progressive Movement, emerged as the artist with the most number of works -- 77 -- featured in the Artery list.
---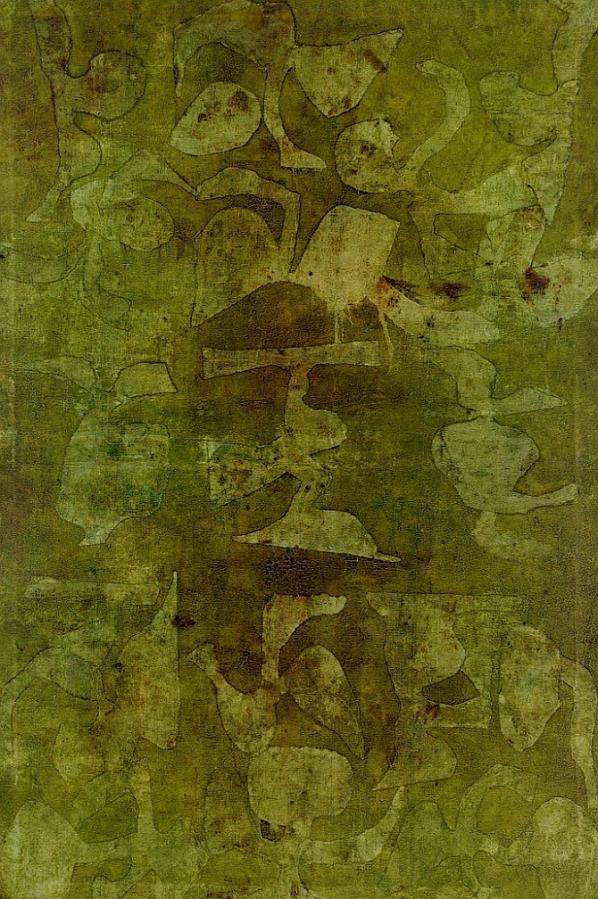 $3,049,283
Untitled: Vasudeo S Gaitonde
Gaitonde returns to the list for a third time thanks to another oil on canvas that was sold by Pundole's, Mumbai, in April 2015.
Photograph: Kind courtesy: Pundole's
---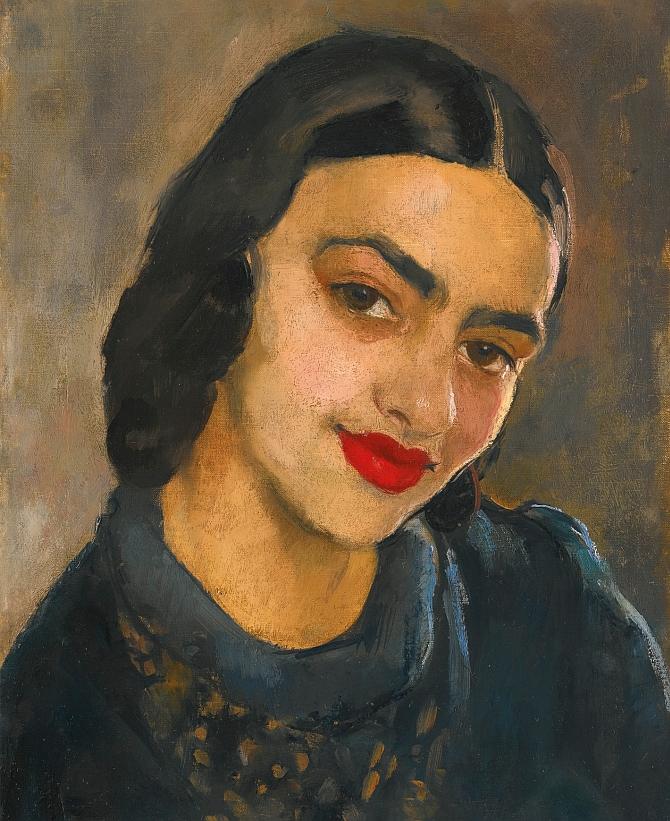 $2,920,000
Untitled (Self-portrait): Amrita Sher-Gil
This oil on canvas by the artist who is considered India's greatest female painter made an impressive sale at a Sotheby', (New York, auction in 2015.
It was given by the artist to her cousin-niece and husband during Sher-Gil's visit to Europe circa 1933.
The painting was in the family's posession and was acquired from them by the current owner.
Photograph: Kind courtesy Sotheby's