Bharatiya Janata Party MP Nishikant Dubey said on Saturday the Lok Sabha Speaker should also probe the 'unsavoury' conduct and remarks of Danish Ali, who was recently at the receiving end of ruling party member Ramesh Bidhuri's derogatory words in the House.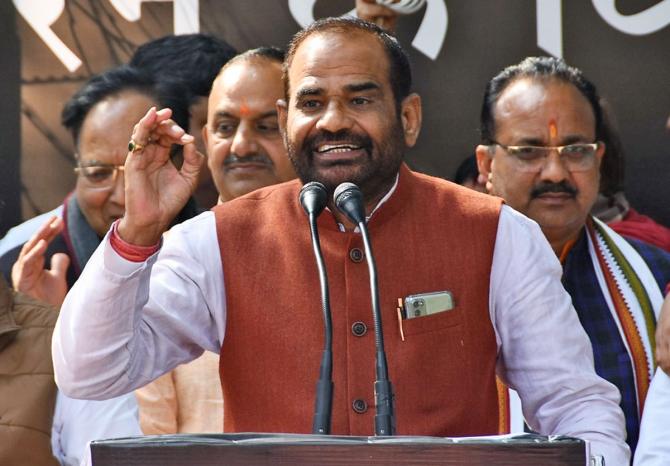 In a letter to Speaker Om Birla, Dubey accused Ali of offering a running commentary during Bidhuri's speech in Lok Sabha on Thursday and making unsavoury remarks aimed at instigating him to lose his composure.
Dubey alleged that Ali also made a 'highly objectionable and blasphemous' remark against Prime Minister Narendra Modi.
He used 'neech' barb, the BJP leader claimed, saying it was more than enough for 'any patriotic public representative to lose his calm and fall into his trap by uttering unsavoury words'.
Dubey was, however, categorical in condemning Bidhuri's comments, saying no decent society can justify them and they cannot be condemned enough.
'But the Lok Sabha Speaker should also probe the unsavoury remarks and conduct of Danish Ali. Under Lok Sabha rules, obstructing another MP during the time allotted to him, speaking while sitting and giving a running commentary also call for punishment,' he posted on X.
In an apparent reaction to Dubey's claims, Ali said on X that some BJP leaders are pushing this narrative that he instigated Bidhuri.
'Truth is that I tried to protect the prime minister's dignity and urged the Chair to expunge from the House's records highly objectionable words used about Modi ji,' he said, posting a short video of the BJP MP citing derogatory words used by rivals for the prime minister before abusing the Bahujan Samaj Party member.
In his letter, Dubey said the Trinamool Congress and the Dravida Munnetra Kazhagam members also made comments about faith of another community.
What he has written is a verifiable fact, he claimed.
If Bidhuri has committed an inappropriate act, then other members, including Ali, have also contributed in spreading enmity amongst communities.
'I, therefore, request you to constitute an 'Inquiry Committee' to investigate the utterances made by various members during the said discussion and also to inquire the extent of culpability of various other members of Parliament in instigating our citizens by way of their comments made in the House,' he wrote to the Speaker.
Dubey said that he has been a Lok Sabha MP for nearly 15 years and stays in the House throughout, spending more time than others.
'I never thought that I would witness such a day,' he added.
Bidhuri's abusive outburst in the House on Thursday embarrassed the BJP and sparked outrage, with Speaker Om Birla issuing him a warning and his own party serving a show-cause notice on him. Bidhuri's remarks were expunged from parliamentary records.
Opposition parties have rallied around Ali, who has sought action against Bidhuri, and targeted the ruling party over the issue.
Members of the Congress, the TMC and the Nationalist Congress Party among others have written to the Speaker seeking action against Bidhuri.
Dubey, one of the more vocal faces of the BJP in Lok Sabha, said the issue of breach of privilege about which Ali and some others MPs have been vociferous cannot be applied in isolation as otherwise there will be a serious and irrevocable 'miscarriage of justice'.