Bharatiya Janata Party MPs Ravi Shankar Prasad and Harsh Vardhan on Friday distanced themselves from their party colleague Ramesh Bidhuri's objectionable remarks against Bahujan Samaj Party parliamentarian Danish Ali as they came under attack for allegedly laughing at the time of the incident in the Lok Sabha..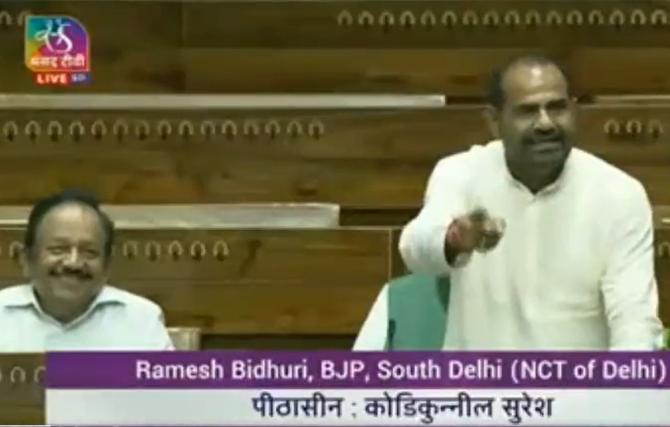 While Prasad said he does not support any indecent comment, Harsh Vardhan alleged that some people with vested interests have "dragged" his name into the row and claimed that he could not "clearly hear" what was being said due to the "chaos" in the House at that time.
The BJP, meanwhile, issued a show cause notice to Bidhuri, its MP from South Delhi, for his objectionable remarks against the Bahujan Samaj Party MP in the Lok Sabha on Friday.
"While I was no doubt witness to the jugglery of words being thrown at each other (which in fact the entire House was), the truth of the matter is that in the chaos that existed, I could not clearly hear what was being said," Harsh Vardhan, a former Union minister, wrote on X.
In a post on X later, Prasad said, "We have always supported dignified conduct inside and outside Parliament and I myself also follow it. I do not support any comment which is indecent".
The two BJP leaders' clarification came a day after Bidhuri made certain objectionable remarks targeted at BSP member Kunwar Danish Ali on Thursday night during a discussion in the Lok Sabha on the success of the Chandrayaan-3 mission.
Both Prasad and Harsh Vardhan came under attack after a video footage of the incident went viral on social media. In the video clip, Bidhuri could be heard making certain objectionable remarks and the two BJP leaders, sitting behind him, appear to be laughing.
"New low inside the new Parliament of India. BJP MPs Harsh Vardhan and Ravi Shankar Prasad were shamelessly laughing when their colleague Ramesh Bidhuri was abusing Muslim MP Danish Ali," the Aam Aadmi Party said on X, sharing a picture in which the two BJP MPs could be seen smiling while Bidhuri appears to be speaking.
In a long post on X, Harsh Vardhan wrote, "I have seen my name trending on Twitter where people have dragged me into this unfortunate incident where two MPs were using unparliamentary language against each other on the floor of the House."
"I ask my Muslim friends who are writing against me on social media today, whether they actually believe that I could ever have become party to the usage of such derogatory language that would hurt the sensibilities of any one community?" the BJP MP said.
"It is a notorious and fabricated story filled with negativity and is being used by some vested political elements on social media to tarnish my image," he claimed.
Harsh Vardhan asserted that in the 30 years of his public life, he has worked closely with "lakhs of Muslim brothers and sisters" in his constituency as well as with "colleagues" from various walks of life.
"Born and brought up in Phatak Teliyan in the historical gullies of Chandni Chowk, I have spent my childhood and grown up playing with my Muslim friends. I can state with utmost confidence and conviction that all Muslim brothers and sisters who have ever been in contact with me will vouch for my sentiments and behaviour," he said.
Harsh Vardhan said he was "overjoyed" to have been elected as a Member of Parliament from the "prestigious" constituency of Chandni Chowk and this could never have happened if all communities had not supported him.
"I feel sad and humiliated that some people with vested interest have dragged my name into this," the Chandni Chowk MP claimed.
"I have always stood by my own principles in life. And I have never been apologetic about following them, keeping the interest of my country and its people above everything else," he said, adding, "Our senior and respected leader Rajnath Singh ji has already condemned the usage of such unpardonable language by both sides."
Lok Sabha Speaker Om Birla on Friday took "serious note" of the objectionable remarks made by Bidhuri in the House and warned him of "strict action" if such behaviour is repeated in the future, officials said. The speaker later expunged those words.
Union minister Rajnath Singh had expressed regret for Bidhuri's remarks.
The video of Bidhuri's controversial references to the Muslim MP has gone viral with opposition parties demanding strict action against him, including suspension from the House.