The prime minister touched the Pakistani prime minister's mother's feet.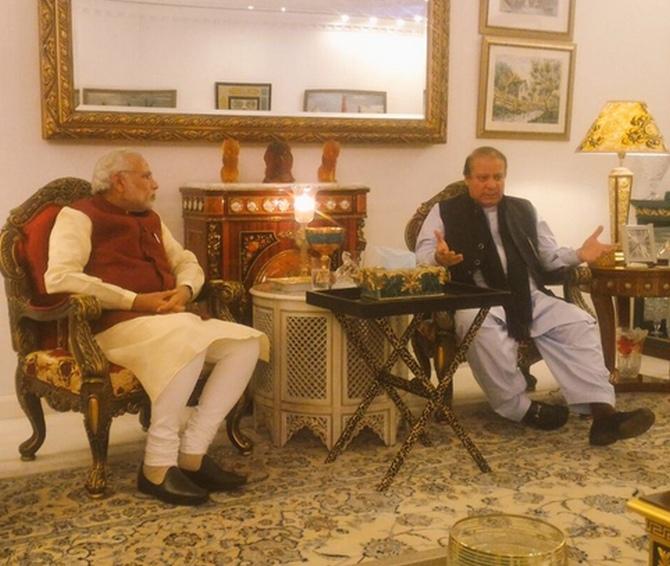 Prime Minister Narendra Modi with his Pakistani counterpart Nawaz Sharif at the latter's granddaughter's wedding ceremony in Lahore. Photograph: MEA/Twitter
One of Prime Minister Narendra Modi's favourite dishes Saag was among the vegetarian delicacies cooked for him at a meal at his Pakistani counterpart Nawaz Sharif's Jati Umrah home.
"All dishes, including saag, daal and vegetable food, were cooked in desi ghee," a source at Jati Umra told PTI.
Kashmiri tea was also served to Modi and his delegation.
Some 11 members of Modi's delegation accompanied him to the Jati Umerah. They were issued a 72-hour visa. Other members of the delegation stayed on at Lahore's Allama Iqbal International Airport. Refreshments were served to them at the airport.
When Modi reached the Jati Umrah, located on the outskirts of Lahore, Sharif's son Hasan and other family members received him warmly.
Pakistan Prime Minister Nawaz Sharif's mother then entered the hall, the source at the Jati Umrah said, and Modi touched her feet.