With more than 21 lakh migrant workers returning to the state as per official data, the Nitish Kumar government faces an enormous challenge in providing jobs for them.
M I Khan reports.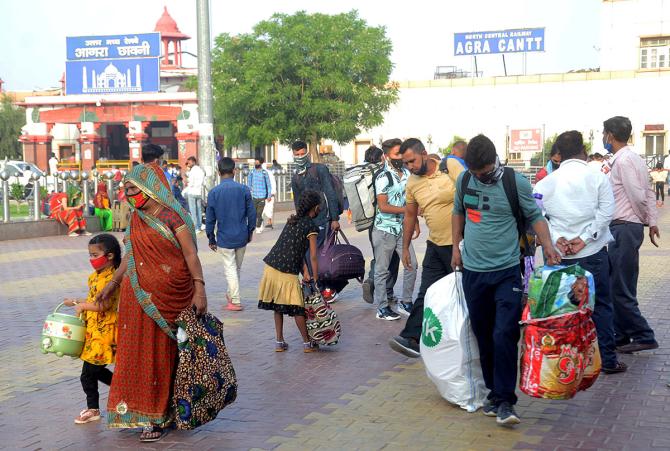 "Hum kewal char mahina pahle kamane gaye the lekin Corona phailne ke baad lockdown ke dar se wapas ghar (Bihar) aa gaye hain. Pichle saal lockdown lagne ke baad hum ne jo jhela tha woh dobara nahi ho (We went there only four months ago to earn our livelihood but after rising Covid-19 cases and fear of likely lockdown again were compelled to return home. We do not wanted to face a repeat of last year's experience after lockdown)", said Manish Yadav, a migrant worker who, along with over a dozen others, arrived at the Patna railway station from Pune in Maharashtra.
Manish, who was working in a motor parts factory near Pune, said he was left with no option as his contractors suggested they go back home.
"He told us to return ahead of the lockdown because work in the factory will close and no one will provide work and food. We had spent months in our village last year after struggling a lot to reach home following the lockdown. In December 2020 we left our village against for livelihood as the danger of Covid-19 had decreased."
Like Manish, Khurshid Alam, who was also working with a construction contractor in Pune, said the situation has worsened there and work has stopped. "Locals told us that a lockdown will be imposed and we were not ready to face a horrible time like last year and decided to return to our village."
Both Manish and Khurshid are residents of the flood-prone and backward Katihar district of Bihar, which along with Purnea, Kishanganj and Araria are known as Seemanchal, considered a hub of supplying cheap migrant workers to developed states like Maharashtra, Punjab, Tamil Nadu, Gujarat and Delhi.
Fearing a lockdown in view of the rising Covid-19 cases across India, thousands of migrant workers have returned to their native villages in Bihar in the last one week and thousands more are likely to return in the coming days.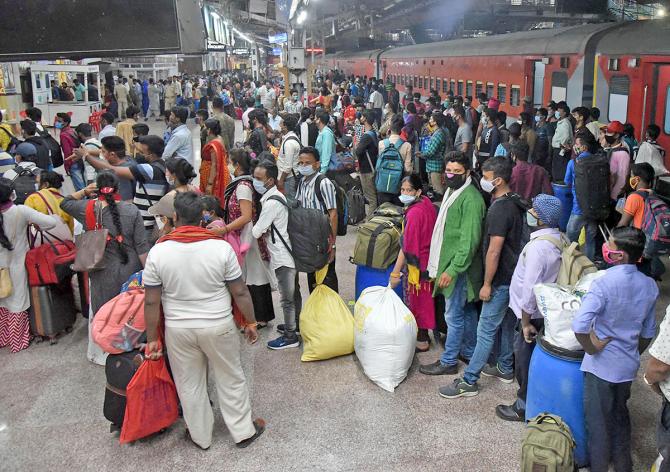 In the last eight days (since Wednesday) a large number of frightened migrant workers reached different railway stations in Bihar by dozens of passenger trains mainly from Maharashtra (Mumbai and Pune), Delhi, Gujarat (Surat and Ahmedabad), Bengaluru and other states.
An official of East Central Railway (ECR) admitted that hundreds of migrant workers have been returning on a daily basis to their home state due to the fear of lockdown. "More special trains will reach the state with migrant workers," he said
Migrant workers have arrived in groups in Patna, Gaya, Bhagalpur, Darbhanga, Saharsa, Muzaffarpur railway stations in different trains in recent days.
An official of the state health department said of the migrant workers who have been arriving from Maharashtra, Gujarat and Delhi, several of them tested Covid-19 positive and put in an isolated centre here.
He said migrant workers are not returning only by special trains but by regular trains on a daily basis.
Another migrant worker, Kamlesh Prassd, who arrived in Danapur railway station in Patna from Mumbai, said he and others were compelled to return as the fear of lockdown was growing day by day.
"Apart from fear, it was useless to stay there without work. I was without work for over a week due to the Covid-19 spread. Most of the workplaces have been closed and after night curfew the owners suggested to us to return before a lockdown was imposed," said Husnaain, a tailor master working at a stitching workshop in Mumbai.
Similarly, Sukesh Kumar, who was working as an assistant in a garment factory in Surat in Gujarat with a contractor, said "I was lucky to get a railway ticket and returned safely. I know dozens waiting to return but are not getting reserved tickets in trains."
Vijay Kushwaha and Mahesh Mandal, both migrant workers who returned to their village in Bhagalpur district, said the fear of lockdown was "very strong among us and others like us (migrant workers)". "We have not forgotten last year's horrible experience of lockdown and what happened to us after that. We have returned as there was no option," said Mandal.
Till date, migrant workers who have returned were either daily wage construction workers, security guards, cooks or who worked in industry and factories and were compelled to return home after being rendered jobless or without work in view of the rising Covid-19 cases and tough measures enforced to check it, particularly in Maharashtra, Delhi and other states.
Railway authorities have deployed health workers at all important railway stations for conducting a thorough health check-up of each passenger arriving in Bihar from the worst Covid-19 affected states of Maharashtra, Delhi, Uttar Pradesh and Gujarat.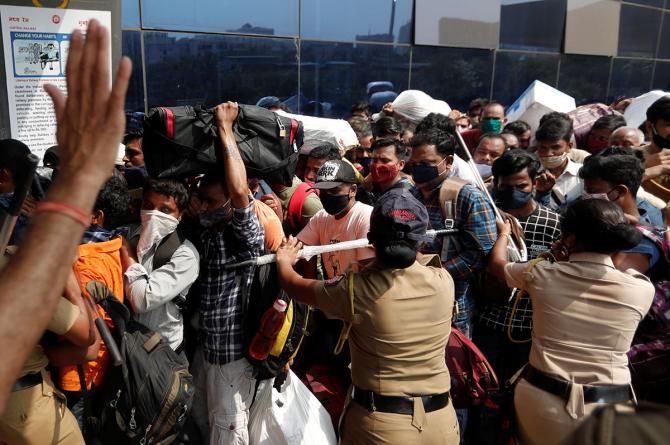 With thousands of migrant workers having already returned and thousands set to return in the coming days, it is a big challenge for the state government to provide them jobs. Like last year, the state government has announced that it will provide job opportunities to migrant workers.
Rural development department minister Shravan Kumar said a directive has been issued to all the district authorities to ensure 100 days of work to the returnees under MGNREGA in the villages itself. He said that so far the number of returning migrant workers was less than the number from last year after a lockdown was imposed in the country.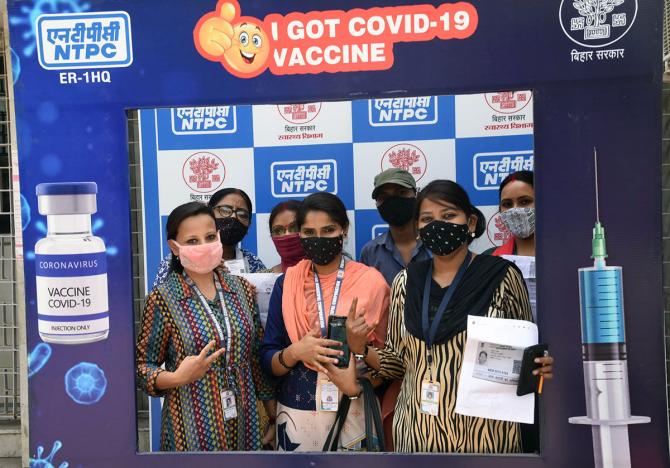 Ironically, the state government has not taken enough precautions against the spread of the pandemic in the rural areas. Unlike last year, migrant workers are now directly going to their villages and homes from the railway stations soon after arrival.
The Covid-19 situation is alarming in Bihar as well.
As per the official website of the state health department, Covid-19 cases have been rising manifold in the last two weeks. There were only 74 positive cases reported on March 30 in the state, that rose to 4157 on April 13. If not checked in the next few days, the situation may turn worse, a senior health official said.
In the last seven days the state reported 18466 new Covid-19 positive cases. During this period (from April 7 to 13), about 54 deaths reported from Covid in the state.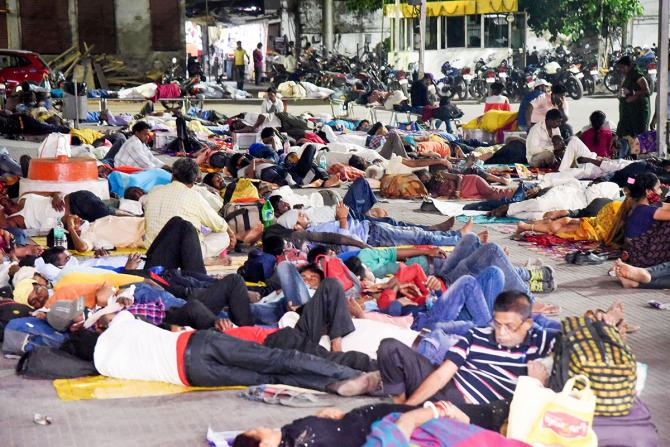 After the sudden lockdown last year, millions of skilled and unskilled workers, drivers, vendors were rendered jobless, as per official figures.
In Bihar, joblessness after the lockdown poses a great challenge, with more than 21 lakh migrant workers returning to the state as per official data.
Initially thousands of them walked hundreds of kilometres on roads and along railway track to reach home as there was no arrangements made for their return. Later, the railways had operated Shramik special trains between May and July for ferrying migrant workers home.
However, most migrant workers who returned home last year spent months without work as the state government failed to provide jobs for them, contrary to publicised claims.
Feature Presentation: Ashish Narsale/ Rediff.com