For about three more years, the Indian Navy will have to make do with its lone carrier -- the Russia-built INS Vikramaditya.
Ajai Shukla reports.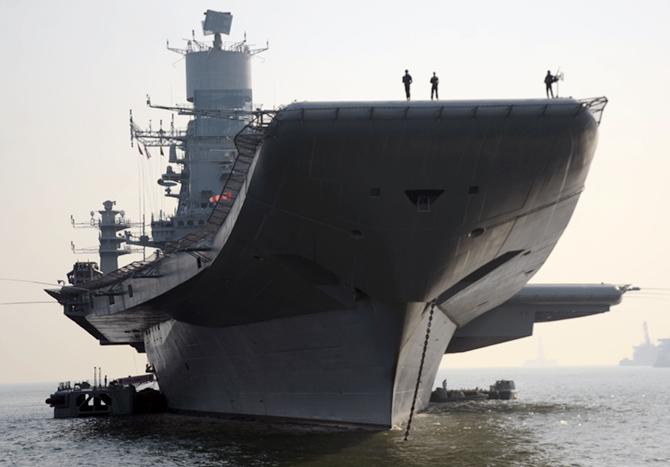 The long wait for India's first indigenous aircraft carrier, the INS Vikrant, is set to be even longer.
Senior naval sources say the COVID-19 pandemic has set back the start of trials by at least six months -- perhaps more if the lockdown and travel restrictions continue.
The first phase of the warship's trials -- termed basin trials -- was initially scheduled to begin on March 12 at the Cochin Shipyard, where INS Vikrant has been constructed.
However, construction delays caused that to be moved back to April.
Then, with the COVID-19 pandemic locking down facilities and travel, the navy says trials are unlikely to begin before September/October.
An example of the delay is the difficulty faced by marine engine specialists from Hindustan Aeronautics in travelling to Kochi for the trials.
These HAL representatives are essential for the trials because the General Electric gas turbines that power INS Vikrant have been built and supplied by HAL's collaborative venture with GE in Bengaluru.
However, HAL representatives are reluctant to travel to Kochi, where they would face 14 days of quarantine on arrival in Kerala and another 14 days quarantine on return to Bengaluru.
Similarly, there are about 40 to 50 vendor representatives, including 10 from abroad, who cannot come to Kochi for basin trials without facing the deterring prospect of mandatory quarantine.
"The navy has even offered to organise the vendors' quarantine and to pay the expenses that are incurred. Given how much this delay in trials is escalating the cost of INS Vikrant, we would pay less for the quarantine and related expenditure. But the Kerala government is not agreeing to this," says an admiral.
"We were optimistic about finding a solution because Kochi and Ernakulam are green zones. But when we request the Kerala government, they say: 'Yes, we are in a green zone, but we don't want to convert it back to a red zone'," the admiral said.
At his Navy Day media meeting last December, Admiral Karambir Singh, chief of the naval staff, had said the navy would have a fully operational INS Vikrant before the end of 2022.
The COVID-19 pandemic has already pushed that back to 2023 and further delays are possible.
Admiral Singh stated it was operationally essential for the navy to operate three aircraft carriers.
It now appears that, for about three more years, it will have to make do with its lone carrier -- the Russia-built INS Vikramaditya.