As a percentage of the military budget, the navy's share has fallen from 19 per cent in 2010-2011 to just 15.5 per cent this year.
With the Indian Navy's annual budget declining steadily, security planners are reluctant to green light crucial projects, discovers Ajai Shukla.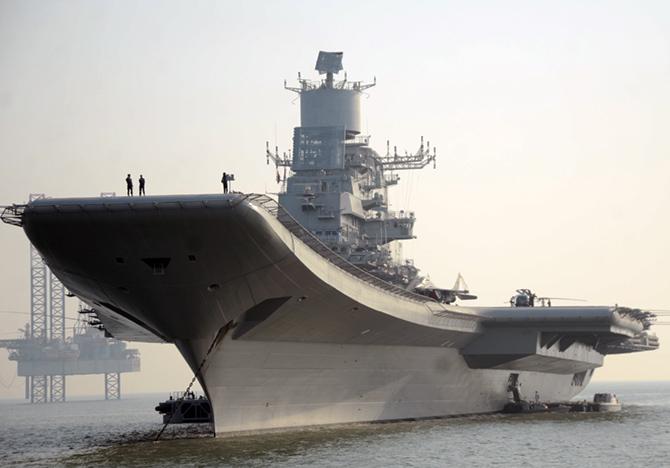 With the navy's annual budget steadily declining, national security planners are reluctant to green light crucial power projection platforms, notably India's second indigenous aircraft carrier (IAC-2), which should have already been under construction to join the fleet by about 2030.
India's ambitious maritime aspirations were outlined in Prime Minister Narendra Damodardas Modi's keynote address at the prestigious Shangri-La Dialogue on June 1.
Declaring that India would help 'build economic capabilities and improve maritime security for our friends and partners', Modi claimed: 'We are advancing a comprehensive agenda of regional co-operation through Indian Ocean Rim Association. And we also work with partners beyond the Indian Ocean Region to ensure that the global transit routes remain peaceful and free for all.'
The prime minister was clear about India's maritime challenges: 'We see growing mutual insecurity and rising military expenditure; internal dislocations turning into external tensions; and new fault lines in trade and competition in the global commons. Above all, we see assertion of power over recourse to international norms.'
Yet, the National Democratic Alliance government, like the United Progressive Alliance government before it, continues de-prioritising the navy in allocating financial resources.
The navy's budget, instead of growing to support the heavily tom-tommed 'Act East' strategy, is currently at a decadal low.
Since 2010-2011, when the navy got 30 per cent of the three services' capital budget, its allocation has dropped to 25 per cent this year.
As a percentage of the military budget, the navy's share has fallen from 19 per cent in 2010-2011 to just 15.5 per cent this year.
The absolute figures are even more telling.
Were the naval allocations to have risen 7 per cent annually since 2010-2011, roughly in tandem with the Gross Domestic Product, the navy's capital allocation of Rs 171.4 billion in 2010-2011 would have grown to Rs 294.51 billion this year.
In reality, the navy got just Rs 208.48 billion.
Nor is there recognition of the 10 per cent annual inflation in defence, or of India's 'Look East' and 'Act East' policies that call for stepping up the navy's budget.
The reduction in naval allocations comes despite the defence ministry's official approval of the navy's Maritime Capability Perspective Plan.
First drawn up in 2005, and updated for the 15-year period 2012-2027, this committed to fielding three aircraft carriers, so that at least two are operational at all times, one each with the western and eastern naval fleets.
"The ministry is reneging on a solemn commitment," says Admiral Arun Prakash (retired), who was naval chief in 2005.
While inadequate capital allocations affect all warship acquisitions, the drag is most apparent in the navy's flagship project to design and develop IAC-2, which will reportedly be named INS Vishal.
The first indigenous carrier, the INS Vikrant, which is being constructed in Cochin Shipyard, is expected to be commissioned in 2021.
IAC-2 should have begun construction, but has not even managed to get an 'in principle' approval from the defence ministry, which seems paralysed by the fratricidal contest between the army, air force and navy for the same depleted budget.
The air force, seeking to canalise the budget to new fighter squadrons, has argued that the aircraft carrier is an outdated concept, and that land-based fighters, with their ranges extended by mid-air refuelling, can strike targets far out to sea, without the risk that aircraft carriers run of being sunk by anti-ship missiles, torpedoes, or 'carrier killer' ballistic missiles like China's Dong Feng–21D, which China claims can destroy enemy carriers 1,500 kilometres away.
Like predictions about the death of the battle tank, the hobbyhorse that aircraft carriers are anachronous has been conclusively rebutted, not least by the US navy, which continues basing its power projection on the 'carrier battle group'.
To be sure, aerial refuelling allows shore-based fighters to strike targets at greater ranges. The plan to station fighters on island bases -- like that 'unsinkable aircraft carrier', the Andaman and Nicobar Islands -- adds weight to the air force's argument.
But shore-based fighters must return to base after striking a far-away target or risk running out of fuel. They have no 'persistence' over areas hundreds of kilometres from their shore bases.
In contrast, an aircraft carrier, escorted by a flotilla of multi-role destroyers and frigates, anti-submarine warfare corvettes, a submarine or two and a range of airborne assets, can project power and dominate areas thousands of kilometres out to sea, where shore based fighters cannot reach even with refuelling.