'The INS Vishal -- a 65,000 tonne giant with 54 aircraft, including fighters, electronic warfare aircraft, airborne command posts and anti-submarine helicopters -- can both protect and dominate,' says Ajai Shukla.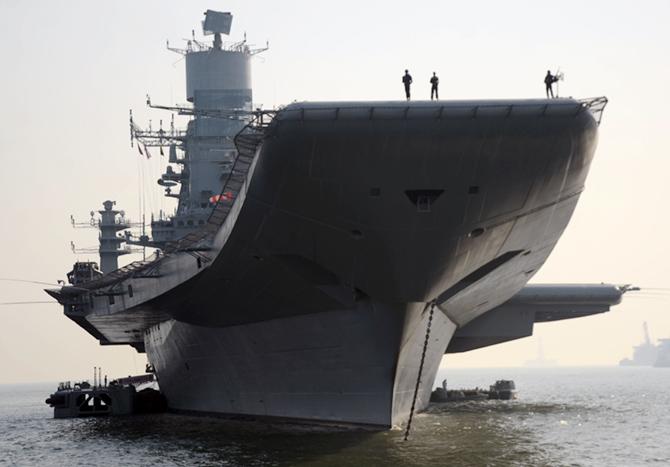 INS Vishal will be India's first real 'power projection' aircraft carrier.
None of the navy's earlier carriers -- the original 16,000 tonne INS Vikrant and the 24,000 tonne INS Virat, both decommissioned now, or even the 45,000 tonne INS Vikramaditya, which is currently in service, or the new 40,000 tonne INS Vikrant -- can embark more than about 30 aircraft.
That is insufficient for the dual task of protecting the 'battle group' and also dominating the seas around.
In contrast, INS Vishal, a 65,000 tonne giant, will embark 54 aircraft, including fighters, electronic warfare aircraft, airborne command posts and anti-submarine helicopters.
While less versatile than the US navy's 100,000 tonne supercarriers, the Vishal, along with another ten-odd helicopters based on its accompanying warships, can both protect and dominate.
Senior defence officers have described the economics of an indigenous, conventionally powered IAC-2 -- since nuclear propulsion was ruled out after the Bhabha Atomic Research Centre said it would take 15 to 20 years to develop a nuclear reactor large enough for a carrier.
The cost of building such a carrier at Cochin Shipyard is estimated at Rs 400 billion.
Another Rs 40 billion to Rs 500 billion would be needed for a carrier aviation wing -- the aircraft it will embark.
While the navy will operate three carriers once INS Vishal joins the Vikramaditya and Vikrant, senior naval planners say two "air wings" will suffice since the need to refit one of the carriers, turn by turn, would leave two operational at any time.
Two air wings, therefore, would rotate between three aircraft carriers.
Since India already has 45 Russian MiG-29K/KUB fighters, mostly based on the Vikramaditya, the navy has initiated the purchase of another 57 multi-role carrier-borne fighters (MRCBF) for its second air wing.
In this procurement, which began in January 2017, Boeing's F/A-18E/F will compete with Dassault's Rafale-Marine, Saab's Sea Gripen and the MiG-29K.
The navy's IAC-2 programme, therefore, requires Rs 800 billion to Rs 900 billion, spread over 15 years, or some Rs 60 billion annually.
Were the defence ministry to revert to the funding percentages of 2010-2011, allocating 30 per cent to the navy, its capital budget could cater for that annual outflow.
"It is ironic that the budget of the navy -- the service that builds its weapons platforms primarily in India -- is being gradually cut. Meanwhile, the budgets of services that mainly buy from abroad are increasing. So much for Make in India," says a defence ministry official ruefully.
While the ministry dithers over sanctioning IAC-2, a US-India joint working group, set up in January 2015, is working with the US navy and warship industry -- acknowledged as the gold standard in aircraft carrier operations.
Consequently, the navy is embracing American design and operating philosophies, such as catapult launch of aircraft.
The Pentagon has agreed to provide India with EMALS -- the 'electro-magnetic rail gun aircraft launch system' -- a system so advanced that only the latest US navy carrier has it.
The remaining carriers still launch aircraft using the conventional 'steam catapult'.
Meanwhile, navy sources say the Pentagon has agreed to reserve vacancies for Indian aircraft carrier designers in US navy design courses.
Indian navy officers describe as "an eye opener", their exposure to US navy operating procedures. They are learning from their US counterparts new methodologies for final operational trials on new carriers, which will cut down time for operationalising the Vikrant and Vishal.
All this, however, awaits the defence ministry's grant of 'Acceptance of Necessity', which will open the doors for the IAC-2 project to start.
However, there is no telling when that green signal will be given.
India's grand strategy seems clear about its maritime component. But operationalising that maritime strategy continues to be held up by hesitant and wavering decision makers.