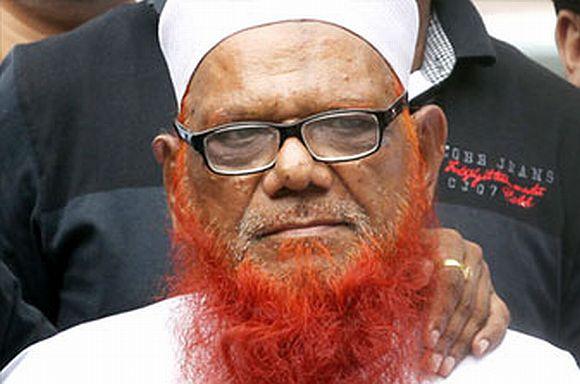 Top Lashkar-e-Tayiba bomb expert Abdul Karim Tunda was on Wednesday remanded in seven days' police custody by a Delhi court after the investigators said those who had allegedly helped him in illegal infiltration of Pakistani nationals are yet to be identified.
Tunda was produced before Chief Metropolitan Magistrate Amit Bansal after expiry of four days police custody given in connection with various bomb blasts in 1997 and for allegedly helping Pakistani nationals to infiltrate into India.
The special cell of the Delhi police sought seven days remand of Tunda saying he was to be taken to Pilkhua in Uttar Pradesh from where explosives were to be recovered and some co-accused were to be arrested.
The police said "due to communal tension" in Pilkhua, they could not go inside the town while he was in their custody. They also said Tunda is to be confronted with arrested co-accused Allauddin and Mohd Zakariya and he is also to be taken to West Bengal for apprehension of other co-accused.
"In fact, in view of submission and record the accused is remanded in police custody for seven days and be produced on September 18," the court said.
The police in their remand application said that during custodial interrogation, Tunda had disclosed that one Maulvi Nizam and Mohammed Basiruddin had helped him along the Indo- Bangladesh border for illegal infiltration of Pakistani and Bangladeshi nationals, who were earlier arrested in connection with these bomb blast cases.
"It is further submitted that contacts of accused Abdul Karim Tunda who helped in illegal infiltration of Pakistani nationals arrested in present case are yet to be identified and traced in Uttar Dinajpur in West Bengal," they said.
Tunda was arrested from the Indo-Nepal border at Banbasa on August 16. He was earlier remanded in police custody for questioning in connection with 37 bomb blast cases across the country.
The police said Zakariya is currently lodged in Presidency jail in Kolkata and Allauddin in a prison in Uttar Dinajpur.
"It has also been learnt that Basiruddin was recently arrested by West Bengal Police and his custody is being sought from Kolkata. Accused Abdul Karim Tunda is to be confronted with accused Mohd Basiruddin, Allauddin, Mohd Zakariya and Shafiq-ul-Islam for their involvement in present case," the police said.
The court had earlier issued production warrants for Allauddin and Zakariya with the direction that they be produced on or before September 16.
On September 7, Tunda was remanded in four days' police custody for unearthing the source of explosives which were provided to various Pakistani nationals arrested in 1998 in connection with 37 bomb blasts.
The police had told the court that the blasts had taken place in 1997 in Delhi and adjoining areas and 20 cases had been registered. Tunda, 70, was admitted to Safdarjung Hospital on August 22 after he complained of chest pain and was shifted to All India Institute of Medical Sciences a day later. He was discharged on September 3.
He had been declared a proclaimed offender in a case in which Special Cell arrested three suspected terrorists -- Aftab, Abdul Haq and Abdul Wahid -- on January 17, 1994, for allegedly planning terror strikes in the national capital during Republic Day.
Another case against him, lodged in 1994, is in connection with the recovery of explosive substances at south Delhi's Malviya Nagar under the provisions of the stringent anti-terror law,Terrorist and Disruptive Activities.
The police had said the three terrorists were arrested in Delhi on January 17, and 150 kg explosives and six daggers recovered from them.
They had claimed Tunda admitted to his involvement in several bomb blast incidents in Delhi and other states. These terrorists were planning a series of explosions in Delhi on January 26, 1994, police had said, adding that on January 20 that year, two more persons -- Aafaq Khan and Irfan Ahmed, too -- were arrested.
Tunda had earlier told court he was "innocent" as he had not motivated anyone to kill women and children through bombs. Tunda is one of the 20 terrorists India had asked the Pakistan government to hand over after the 26/11 Mumbai terror attacks. He is suspected to be involved in 40 bombings in the country. He is the first on the list to be arrested.
The police had earlier said that during his custodial interrogation, Tunda had spoken about his involvement in the present case, which was lodged in 1998.
"Tunda disclosed he had facilitated the accused persons (Pakistani nationals) arrested in the present case in their infiltration into India, illegally with the help of Allauddin and Zakariya," police had said.
They had told the court that two Bangladeshi nationals -- Abdul and Mati-ur-Rehman -- were arrested on February 27, 1998 and one hand grenade each was recovered from them besides other incriminating material.
During interrogation, they had admitted to their involvement in various terror strikes and said it was Tunda who had helped them infiltrate into India.During investigation, 11 others, including various Pakistani nationals, were also arrested. They are Mohd Amir Khan, Mohd Shakeel, Abdul Baqi, Abdul Rehman, Maqsood Ahmed, Mohd Azaz, Mohd Husain, Himam Sheikh, Mohd Umar, Mohd Safiqul and Abdul Qasim.