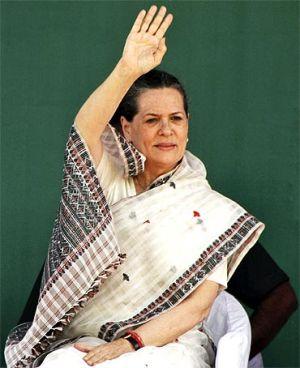 Congress President Sonia Gandhi, who has been spearheading the UPA's ambitious Food Security Bill, left the Lok Sabha while the voting was underway on Monday night on various amendments moved by the Opposition.
TV channels reported that the Congress chief was admitted to All India Institute of Medical Sciences in New Delhi after she complained of chest uneasiness. The UPA chairperson is currently under observation in the intensive care unit of AIIMS.
Gandhi was seen leaving Parliament at 8.15 pm, being helped by Union minister Kumari Selja. Her son and Congress Vice President Rahul Gandhi also accompanied her.
She had viral fever since Sunday night and doctors examined her at her home, sources said.
Earlier in the day, Gandhi led the party in the debate on the landmark bill describing it as a measure to wipe out hunger from the country.
Top officials of the medical institute including its acting director R C Deka are taking care of her. They said she is undergoing some tests and is under observation but did not confirm whether she is admitted.
Doctors have said that she is doing fine and is not in the ICU.
A bevy of senior Congress leaders rushed to AIIMS hospital where party chief Sonia Gandhi was admitted after she was taken ill in Lok Sabha when her pet Food Security Bill was in the final stages of adoption.
Sonia's son Rahul, who accompanied her from Parliament House to AIIMS, daughter Priyanka and son-in-law Robert Vadra were with her at the hospital's Cardio-Neuro Centre.
Union Health Minister Ghulam Nabi Azad, fellow ministers Vayalar Ravi, Anand Sharma and Jyotiraditya Scindia, Janardhan Dwivedi, Ahmed Patel, Motilal Vora, Mohsina Kidwai, Delhi Chief Minister Sheila Dikshit and Haryana Chief Minister Bhupinder Singh Hooda were among the Congress leaders who rushed to the hospital to inquire about Sonia's condition.
Lok Sabha Speaker Meira Kumar also visited the hospital.
With inputs from PTI