'The spread of COVID-19 is not increasing across Maharashtra.'
'Only Mumbai remains a concern.'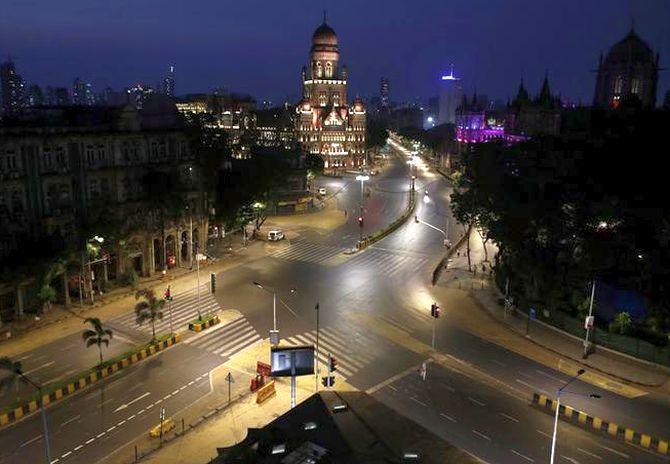 There is buzz that the ongoing pan-India lockdown, meant to contain the spread of COVID-19, will be extended in Maharashtra which has registered the largest number of cases -- as of now it has recorded 690 coronavirus positive cases -- in the country.
Maharashtra Health Minister Rajesh Tope says the state government has not reached any decision on the matter yet.
Decisions will be taken only after the Maharashtra government has wider consultations with central and state government officials who are at the forefront of the coronavirus battle.
"We will communicate our decisions to the people of the state between April 10 and 15 depending on the situation which is constantly evolving," Tope tells Prasanna D Zore/Rediff.com
"The Union government is also keeping a watch on the situation and we keep sharing our experiences and feedback with each other," adds Tope. "We are in constant touch with each other about it (the evolving situation and how to tackle it)."
"The spread of COVID-19 is not increasing across Maharashtra. Only (the spread of COVID-19) within Mumbai's boundaries is a matter of concern. The situation in the rest of the state is fine," Tope points out.
Talking about how the civic administration, the Mumbai police and state health authorities are tackling the spread in Mumbai, Tope says, "Marking out containment zones is the only effective measure right now (to prevent the spread of coronavirus)."
The minister profusely thanks all the doctors, medical and paramedical staff, health workers and policemen, who are at the forefront of fighting the pandemic in Mumbai and the state.
"All the doctors and medical staff and paramedics have been provided with adequate personal protection equipment and the state government is sourcing more of these PPEs as and when the requirement emerges," he adds.
Clearing the air on the issue of scarcity of ventilators and other life-saving equipment in the state, Tope asserts that is not the case in Maharashtra and denies there is any such shortage.
"Please give me information about people who are facing any problem. We will help them," says Tope about doubts being raised about the preparations of the state government.
"The state government has more than 1,500 ventilators and private hospitals have another 2,000 of these. We have 250,000 N95 masks, 35,000 PPEs, 25,00,000 triple layer surgical masks. So there is no worry on this front right now."