Fear has gripped the residents of Worli Koliwada in south central Mumbai after it was discovered that 11 of their neighbours have tested positive for the coronavirus.
Syed Firdaus Ashraf/Rediff.com speaks to residents to find out how life has been for them after the entire area was sealed by the Mumbai police.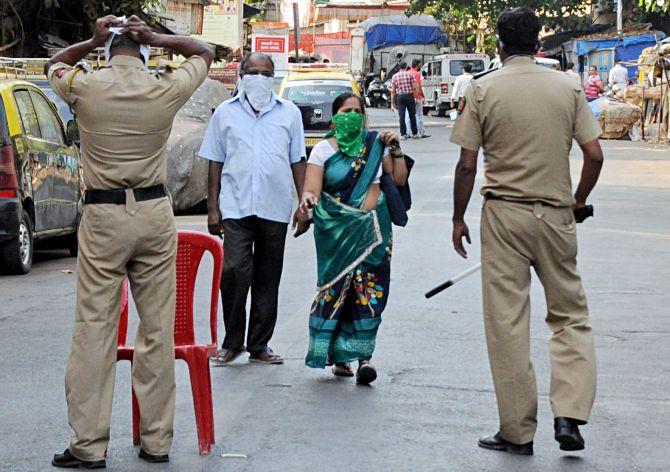 Dhanaji Mhatre is a worried man, and rightly so.
Below his 10 by 10 sq foot room stays a man who returned from Dubai and has since been home quarantined by the Mumbai police, fearing that he may be infected with the coronavirus.
Mhatre hasn't seen his neighbour after his return from the UAE and the door to the neighbour's house is always shut.
He has no idea what his neigbour's family is up to and he can't muster up the courage to knock on their door to find out, fearing that he might get infected too -- though his neighbour isn't even a confirmed patient.
"The only thing I see from my home is his slippers outside the house. And I fear to see those slippers, worrying what if they too are carrying the virus," ponders Mhatre.
Mhatre's neighbour is only one of the reasons for him to be worried. A lane away from his house, another seven people tested positive for the virus, due to which the entire Worli Koliwada area in south central Mumbai, with a population of 100,000 people, has been sealed by the Mumbai police.
On Wednesday it was reported that Mumbai municipal authorities and the city police had sealed at least 46 buildings/areas in the city for being suspected coronavirus hotspots. Of them Worli Koliwada, located at the southern end of the Bandra-Worli Sea Link, has been locked down after officials found 11 residents who tested positive.
The BrihanMmumbai Municipal Corporation is now carrying out an extensive door-to-door screening in the area.
"These seven people didn't travel abroad. They didn't meet anyone who had come from abroad and yet they are infected with coronavirus. All of us are worried how these people got the virus," wonders Mhatre.
Speaking of one of the people who has been infected, Mhatre says, "This lady used to sell cooked food to the people of Worli Koliwada. She never stepped out of our area. I am surprised how this coronavirus reached Worli Koliwada among all the places in Mumbai."
To make matters worse, Mhatre's next door neighbour, an elderly woman, passed away recently.
Fear has gripped the entire neighbourhood, with many wondering if coronavirus had claimed her life. However, soon it was revealed that the woman had passed away due to age-related problems, making them heave a sigh of relief.
Though the Maharashtra government has stated that the virus has not reached stage 3 -- community transmission -- the fear among Worli Koliwada residents is palpable that they, in fact, are very close to the the dreaded stage 3 level.
The Mumbai police has posted personnel outside the Worli Koliwada area whose legislator is Aditya Thackeray, Maharashtra's tourism minister and Maharashtra Chief Minister Uddhav Thackeray's son. Aditya had in fact tweeted the information about the Koliwada being kept in quarantine.
Santosh Kir, who too stays in Worli Koliwada, says, "I fail to understand why the government doesn't declare the names of the patients. By not disclosing their names and their whereabouts, I have started to believe that each and every neighbour of mine is infected."
Justifying his point, he adds, "If you get infected by coronavirus it is not a sin. It is not like a sexually transmitted disease which one has to be ashamed of. If you get infected with coronavirus, you get infected. Take medicines and rest. Get well and come back to do your work."
"Why is the government creating fear among one lakh residents of Worli Koliwada by not declaring the names of patients? This would help all of us. We will keep away from the family members of coronavirus patients as they too can be infected. This will help the public."
At present no one knows who the infected people are, and residents feel that all those who contracted the virus should be shifted to the Kasturba Hospital, which is the main treatment centre in the city.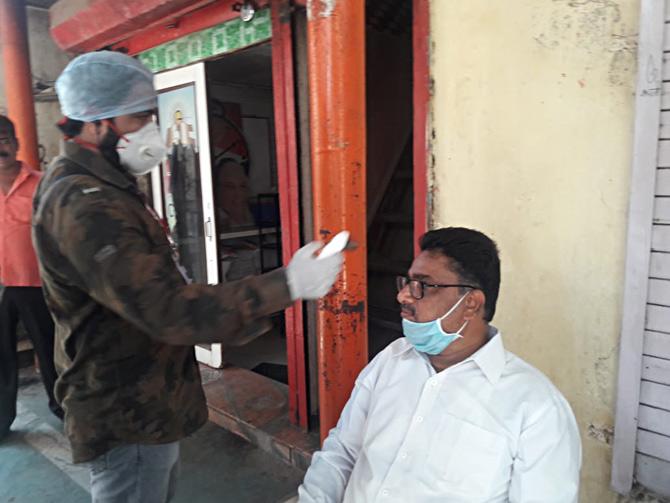 When pointed out that the identities of patients are kept confidential to ensure their safety as well to respect their right to privacy, Kir argues, "But I fear for my 78-year-old mother. She met many people in Worli Koliwada in the last one week. It will be better if I know the names of the patients so that I can figure out if my mother has been exposed to the virus."
"If she has been exposed, then timely treatment to her or better quarantine facility can help save her life. I am not worried about my life as I am young, but I am very worried about my mother's life," says Kir.
"Why is the government treating the names of coronavirus patients a State secret?"
Meanwhile, fumigation has become a regular feature at Worli Koliwada and in this cluster of tiny homes, municipal authorities are ensuring that every common toilet is kept extra clean.
There is a single narrow lane through which one can enter Worli Koliwada which is now being patrolled by the Mumbai police who ensure that no one enters or exits the area.
The rules are very clear: Once you enter the area you will not be allowed to come out until the entire area is free of the virus.
If you want to exit the area then you will be stamped and quarantined at another place only to be told that you can never go back to Worli Koliwada, says a resident.
This has led to a lot of inconvenience for the area's residents -- especially those who find it difficult to find their favourite food -- fish.
"I have not eaten fish for the past one week. I thought I would die if I don't eat fish, but I have survived. I am missing my fish and there is no way I can get it," says 53-year-old Shashi Panchal.
Worli Koliwada is where Mumbai's original inhabitants -- the Kolis, the traditional fishing community -- live.
Kashinath Lad, another resident of Worli Koliwada, says, "If not fish, we eat eggs. And if no eggs, we eat dal-rice."
"Be happy you are alive to see the next day. This is what I have learnt about life in the last three days."