The actual coronavirus positive cases in the country will be at least four times the reported count, biotech entrepreneur Kiran Mazumdar-Shaw said on Thursday, citing large number of people under quarantine without being tested.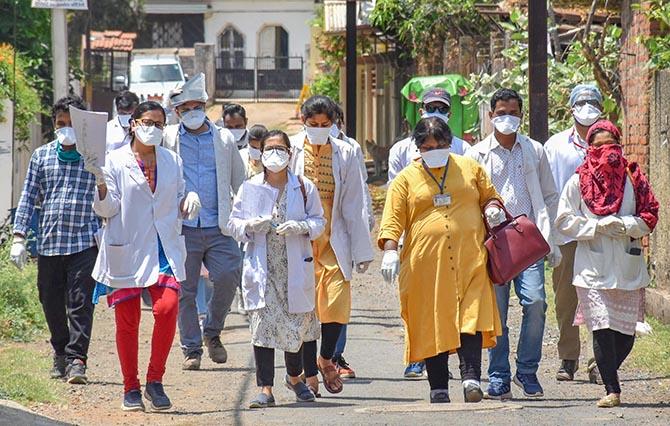 Pitching for random testing, she also wanted making wearing of face masks mandatory in public space.
The country's death toll due to the coronavirus rose to 169 and the number of cases to 5,865 in the country, according to the Union Health Ministry on Thursday.
A total of 1,30,000 samples had been tested for COVID-19 so far in country.
"I am sure the number (of positive cases) is much larger.
"It has to be much larger. If you look at the numbers in quarantine itself who have not been tested, I would say at least four times that number it will be, minimum," Mazumdar-Shaw told PTI.
Testing only those with symptoms is not such a great idea. A lot of asymptomatic people are also positive. Its also important to do some amount of random testing in the clusters. You need to do lot more testing. The more you test, the more positives you get. Only redeeming feature is that the number of those getting into ICU or dying is not huge, she said.
The Chairman and Managing Director of Biocon Ltd said she personally believes that schools and colleges -- high risk areas where the virus can easily spread -- should be shut till June end.
"Large gatherings should not be allowed while malls and cinema halls should continue to be under lockdown.
"Social distancing has to be continued. One of the most import thing is you have get people to wear masks. That's a very important thing when you lift the lockdown."
Everyone should wear mask in the public space, and it should be made mandatory.
"In fact, you have to fine people who are not wearing masks. You don't know who's infected. Today, there are so many asymptomatic carriers. You don't want them to be going around and spreading it (coronavirus)," Mazumdar-Shaw said.
She also said that it is 'impractical' to implement the Supreme Court's order to make all coronavirus tests free, expressing concern that it will lead to plummeting of tests as private labs cannot run their business on credit.
The Supreme Court on Wednesday directed that COVID-19 tests in approved government labs or private laboratories should be conducted free of cost and that the Centre should immediately issue directions in this regard.
The apex court had also said private hospitals, including laboratories, have an important role to play in containing the scale of the pandemic by extending philanthropic services in the hour of national crisis.
Mazumdar-Shaw, however, offered a contrarian view to that of the apex court through her tweets.
'Humanitarian in intent but impractical to implement - I fear testing will plummet,' she said referring to the order of the apex court.
She described the order as 'a judgement that will severely affect testing. Pvt labs simply cannot be expected to run their businesses on credit'.
On Wednesday, a bench of Justices Ashok Bhushan and S Ravindra Bhat, which heard the matter via video conferencing, said that tests relating to COVID-19 or coronavirus must be carried out in NABL accredited Labs or any agencies approved by World Health Organisation or Indian Council of Medical Research.
VS