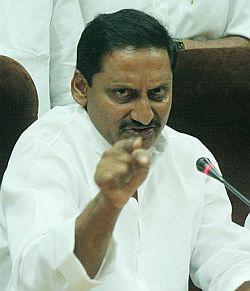 The Congress government in Andhra Pradesh has won a no-confidence motion moved by TRS and supported by YSR Congress and other opposition parties.

Capping a day-long acrimonious debate in the Assembly that went on till the wee hours of Saturday, the motion was defeated by 84 votes in a head count by division.
The no-confidence motion moved by TSR legislature party leader E Rajender got 58 votes in favour of it and 142 votes against it.
The main opposition TDP remained neutral and the total number of neutral MLAs was 64.
Significantly, several known rebel MLAs of ruling Congress and also TDP violated their party line as expected.


Disciplinary action is expected to be taken against them.
In an elaborate speech in defence of his government Chief Minister N Kiran Kumar Reddy highlighted the numerous development and welfare programs being implemented by his government and alleged that opposition parties moved the no-confidence motion as they feared a rout in the ensuing local body election and without a valid reason.
The Opposition parties mainly attacked the government over the prevailing power crisis in the state among other burning issues.
The TRS said it moved the motion as the Congress failed to implement its promise to form separate Telangana state.