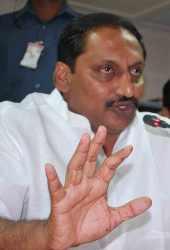 Andhra Pradesh Assembly Speaker N Manohar on Friday admitted the notices for no-confidence motion given by the Telangana Rashtra Samithiand YSR Congress Party against the Congress-led state government.

Having found the notices in order, the Speaker took a head count on the motion moved by TRS Legislature Party leader E Rajender.

Forty-five members comprising the MLAs of TRS, YSR Congress, Bharatiya Janata Party, Communist Party of India and others stood up in favour of it. The no-confidence motion needs the support of at least 30 members to be taken up for debate.

The Speaker then adjourned the House to enable the Business Advisory Committee to meet and take up the matter. The TRS and YSR Congress have moved the no-confidence motion over the Telangana issue, power crisis and other problems of the people.
After the House re-assembled, the debate on the no-confidence motion began with TRS MLA T Harish Rao making his speech.
Elaborating on the alleged injustice meted out to the Telangana region, Rao accused the Congress of betraying the people of the region.
The demand for a separate Telangana has been there since the formation of Andhra Pradesh on linguistic basis.

Image: Andhra CM Kiran Kumar Reddy