Daily revelations about the wealth amassed by Bansal's family made it increasingly difficult for the Congress leadership to protect him, reports Anita Katyal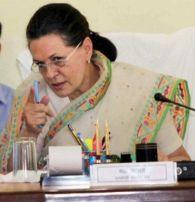 It is often said that a week is a long time in politics. It proved to be dead right in the case of Railway Minister Pawan Kumar Bansal.
When reports first filtered in that Bansal's nephew Vijay Singla had been caught red-handed by the Central Bureau of Investigation while accepting a bribe of Rs 90 lakh on behalf of now suspended Railway Board member Mahesh Kumar, allegedly for a lucrative posting, the Congress leadership was willing to give him the benefit of doubt.
Being a low-profile, soft-spoken and an earnest worker, Bansal had always enjoyed the confidence of Prime Minister Manmohan Singh and Congress President Sonia Gandhi. And this was precisely the reason he was given charge of the crucial infrastructure railway ministry in last October's Cabinet reshuffle.
The fact that he was handpicked by Rajiv Gandhi and made a Rajya Sabha member at the age of 36 also endeared him to Sonia Gandhi.
As a result, Bansal was given a patient hearing when he was called in for the meeting of the Sonia Gandhi-headed Congress core group last week to present his side of the story. According to authoritative sources, Bansal made a convincing case about his innocence.
He told the core group, which includes Prime Minister Manmohan Singh and senior ministers like A K Antony and P Chidambaram, that he had no financial dealing with his nephew and that he was completely in the dark about the developments which had surfaced.
He also said that he was willing to subject himself to any enquiry and that he would like the CBI to complete its probe at the earliest so that his name could be cleared. It is learnt that Sonia Gandhi was particularly moved by Bansal's defence and virtually had tears in her eyes when she heard his side of the story. It is learnt that she was reminded about how her late husband Rajiv Gandhi was vilified and declared guilty in the Bofors kickbacks case well before any enquiry was conducted.
Sources said both the PM and Sonia Gandhi were convinced about Bansal's innocence and decided to back him knowing full well that the opposition parties would mount a shrill campaign to demand the railway minister's resignation. Moreover, the Congress wanted to savour its victory in the Karnataka assembly polls and did want any unpleasant development to mar the celebrations.
The general consensus at that meeting was "no more resignations." It was felt that instead of asking ministers to put in their papers under opposition pressure, it would be better to await the outcome of the CBI enquiry before taking any final view on the matter.
However, the situation has changed dramatically since last week's Congress core group meeting. Daily revelations about the wealth amassed by Bansal's sons and relatives during his stint in power have made it increasingly difficult for the Congress leadership to protect him. There is a realisation that any delay in taking action against Bansal and Law Minister Ashwani Kumar would further damage the party's image which has already taken a severe beating. It would become absolutely impossible for the government or the party to defend Bansal if he was to be called in for questioning by the CBI.
For instance, reports have shown how his sons' assets rose from zero to Rs 152 crore during the last ten years. It is an acknowledged fact in Bansal's Lok Sabha constituency Chandigarh that Bansal has a weakness for his family members who are now being probed for alleged corrupt practices. Vijay Singla was his fund raiser, a regular visitor at his Rail Bhavan office and had also struck up a cosy relationship with his private secretary Rahul Bhandari.
While Bhandari is being interrogated by the CBI, it has also come to light that a chartered accountant who had links to companies owned by Bansal's wife and sons was appointed a director in the Canara Bank when Bansal was minister of state in the ministry.
It is clearly no coincidence that Canara Bank reportedly gave loans worth crores to the companies owned by Bansal's sons and nephews, including Vijay Singla.
In yet another revelation, a public interest litigation in the Punjab and Haryana high court show that 21.26 acres of land in Zirakpur was allotted on a preferential basis to Bansal's family members, including accused Vijay Singla's father Mithan Lal Singla. The land was said to be leased for 33 years at the rate of just 30,000 per year per acre. However, the official document shows the lease period to be 99 years.
There was also speculation that CBI has got the hundreds of hours of taped conversation of the network involved in higher level corruption in the Railways. Before it became public Bansal has been sacked.
It is against this backdrop that Sonia Gandhi called on the prime minister even as the Congress core group is slated to meet on Saturday.
The PM was under intense pressure to sack both the ministers as their continuance in office would further erode the party's credibility.