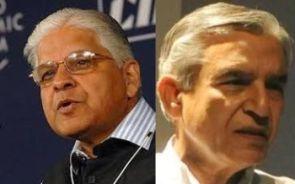 Railway Minister Pawan Kumar Bansal and Law Minister Ashwani Kumar were on Friday night forced to resign by the Congress and the prime minister as the government's image continued to take a severe battering over allegations of corruption and interference with graft probe.
On a day of dramatic developments, Congress President Sonia Gandhi met Prime Minister Manmohan Singh and it was decided that both should be asked to put in their papers to contain any further damage to the government that has already been plagued by a series of scandals.
"Yes, I have resigned," said 64-year-old Bansal emerging from a meeting with the prime minister, a week after his nephew was arrested for allegedly accepting Rs 90 lakh from a Railway Board member for a promise of promotion.
Soon after Bansal, Law Minister Ashwani Kumar, who is under attack over vetting of CBI report in the probe into coal block allocation scam, also met the Prime Minister and submitted his resignation.
PMO spokesman said their resignations are being forwarded to President Pranab Mukherjee.
In his resignation letter, Bansal maintained that he was not aware that his nephew Vijay Singla was in contact with Railway Board Member Mahesh Kumar but he still thought it proper to step down.
He said he looks forward to an expeditious investigation into the allegations.
Ashwani Kumar, in his resignation letter, said he was resigning to put an end to "unnecessary controversy" and "public perception of any wrongdoing".
He maintained that the Supreme Court had not passed any strictures against him.
The government is expected to come out with a detailed statement on the issue on Saturday.
The Congress, which initially decided to weather the storm over Bansal and Kumar, acted to contain any further damage as more and more damning reports surfaced.
Gandhi and Singh took the decision as there was growing unease in the party that the continuance of the two ministers was eroding the credibility of the government, which has been battling scams and controversies for the last three years.
The government, which suffered a severe blow when the Railway Board scam surfaced, was further embarrassed with more media reports emerging about kin of Bansal benefiting from a public sector bank by way of loans when he was Minister of State of Finance.
A clear hint about action against Bansal and Kumar came earlier in the day when Congress spokesman Bhakt Charan Das said the party will not spare anybody "mired" in corruption or manipulation.
The exit of Bansal and Kumar is expected to trigger a reshuffle in the council of ministers over which the Congress President and the prime minister will meet on Sunday. The reshuffle is expected next week.
Meanwhile, there were unconfirmed reports from Bangalore that Union Labour Minister Mallikarjun Kharge, who lost out in race for chief ministership in Karnataka, told his supporters not to be disheartened because he may be given the Railway portfolio.