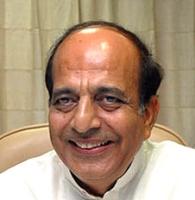 Hitting out at the government for the alleged involvement of the railway minister's nephew in a bribery case, opposition parties on Saturday demanded that Pawan Kumar Bansal step down on moral grounds.
The Bharatiya Janata Party accused the government of shamelessly using constitutional bodies to hide their corruption.
"Scams in which the prime minister and his ministerial colleagues are involved directly are coming out in the open. And the way this government is shamelessly using constitutional bodies to hide their corruption is coming to the fore one by one," said senior BJP leader Mukhtar Abbas Naqvi.
Bansal's nephew V Singla was on Friday arrested by the Central Bureau of Investigation, which also held a member of the railway board in connection with the alleged bribery of Rs 90 lakh for fixing a top level position in the government.
United Progressive Alliance ally Samajwadi Party even demanded the railway minister's resignation on moral grounds.
"The prime minister and Congress President Sonia Gandhi need to realise that it is the railway minister's nephew who has been arrested with Rs 90 lakh. Pawan Kumar Bansal should resign on moral grounds. Leaders, who are corrupt, should be suspended," said SP national general secretary Ram Asrey Kushwaha.
Former railway minister Dinesh Trivedi said the incident was a "very sad" day for Indian Railways.
"As far as this controversy is concerned, we have to wait till the truth comes out, but the fact is, its a very sad day for Indian railways and I think the PM must step in to clean up railways. When I was the minister, there was zero tolerance of such things. Bansal to my mind is a nice, clean person. I will be very disappointed and surprised, so I don't want to jump to any conclusion. Let's wait till the details come out," he said.
Trinamool Congress leader Derek O' Brien called the incident "retail bribery" as the scam had "fewer zeores".
"The first thing I want to say is the railways is a wonderful family. They have a few rotten apples. The first thing we need to do is not to brand the entire railway family as rotten apples. I would call it retail bribery because there are fewer zeroes than what we normally hear in coal-gate, 2G scam etc, but it is so shameful that these things are happening at all levels," he said.
Image: Dinesh Trivedi