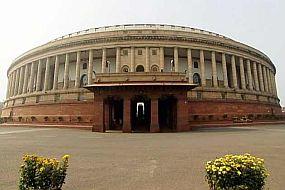 Congress vice president Rahul Gandhi has called a meeting of chief ministers of 12 Congress-ruled states to figure out how to fill out the vacancies in the Rajya Sabha. Highly-placed sources have said that he wants to cajole Amethis's former feudal lord Sanjay Singh; by giving him an RS ticket, in view of his own weak position in Amethi. Renu Mittal reports.
Rahul has summoned the 12 chief ministers of Congress ruled states, Congress Legislative Party leaders and Pradesh Congress Committee presidents to Delhi on Saturday, to discuss the vacancies in the Rajya Sabha and what nominations to make.
Since the next day is January 26, the chief ministers would need to be in their state capitals and they will therefore meet Rahul in the morning and the rest in the evening, since they need to return to their states before the Republic Day parades in their states.
With its dwindling numbers, the Congress is having problems adjusting its senior leaders with most chief ministers opposed to the idea of bringing in outsiders from their states.
It is learnt that 10 Janpath wants former Delhi chief minister Sheila Dixit brought to the Rajya Sabha; but when Himachal Pradesh Chief Minister Virbhadra Singh was approached, he refused, saying there is a revolt within the party by the idea of an outsider.
An attempt is now on to bring her from Haryana where two Congress members of Parliament are retiring, and only one can win since the Congress numbers are reduced.
Even Haryana Chief Minister Bhupinder Singh Hooda is unhappy at the thought of bringing in an outsider. He wants to push the PCC president Phool Chand Mullana as the party's candidate and is being supported by All India Congress Committee general secretary in-charge of Haryana Shekeel Ahmed.
On the other hand, the opposing group of Selja Kumari and Chaudhary Birender Singh want to bring in retiring member Ishwar Singh. The two factions are locked in a battle, and to resolve the issue, the leadership may bring in a third candidate.
The party is facing problems in Assam as well. It is learnt that Rahul wants to adjust Sanjay Singh from Amethi in the Rajya Sabha and when Assam chief minister Tarun Gogoi was approached he refused, saying he has already adjusted Dr Manmohan Singh and there will be a revolt if he brings in an outsider, especially from the Hindi heartland as there is an ongoing agitation against Hindi. He is reported to have said that he will lose both the seats if that happens.
The Congress can lose one seat in Assam if the united opposition puts up a candidate but so far there are indications that that may not happen. The fate of Assam PCC president Bhubaneswar Kalita is in the balance, as he is retiring and this would be his fourth term if he is repeated. He was given two terms earlier and after a break given another term, with his third term now concluding.
AICC treasurer Motilal Vora is retiring from Chattisgarh and since the congress is in a position to win one seat, it is likely that Vora may be repeated from there because of his age, experience and seniority, though there has also been talk that he may be made governor.
Sources say that party president Sonia Gandhi is very fond of him and would go by whatever Vora prefers.
In Rajasthan, Dr Prabha Thakur of the Congress is set to lose her membership since the congress is now not in a position to win a single seat from the state. There are three vacancies from Rajasthan: Om Prakash Mathur and Gyan Prakash Pilania of the Bharatiya Janata Party, and Prabha Thakur of the Congress. The BJP will win all the three seats from Rajasthan.
In an indication that the Congress will not have an alliance with West Bengal Chief Minister Mamata Banerjee, the Congress and the Left will field a joint candidate just as they did in UPA-I, and the latter has agreed to support an independent.
In this context, the name of academician Husainur Rehman has come up, and he may be fielded with Ahmed Saeed Mahilabadi, a poet and retiring editor.
The CPI-M will get one seat and may repeat Shyamal Chakraborti while Mamta will get three clear seats. She has fielded industrialist KD Singh from Bengal, though he still has 1.5 years to go from Jharkhand, where he was nominated from earlier. With his resignation, the Congress and the Jharkhan Mukti Morcha can each field one candidate in the by-election.
In Maharashtra, seven MPs are retiring, including two from the Congress including Murli Deora, two each from the Nationalist Congress Party and the Shiv Sena, and Prakash Javdekar of the BJP.
In a major move, NCP chief Sharad Pawar is moving into the Rajya Sabha and will be filing his nomination papers instead of Dr Janardhan Waghmare. NCP's second retiring MP -- Dr Yogendra Trivedi is also being dropped, and instead noted Mumbai lawyer Majid Memon is being brought in.
From Tamil Nadu, former Congress minister Jayanti Natrajan is retiring and looks unlikely to make a comeback as the Dravida Munetra Kazhagam has announced the seat for Siva, the party's sitting MP.