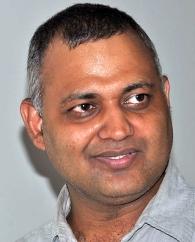 The Congress, which provides outside support to the Aam Aadmi Party government in Delhi, on Thursday asked Lieutenant Governor Najeeb Jung to direct the police to take action against controversial Law Minister Somnath Bharti for allegedly leading a group of assaulters in a midnight raid last week.
A delegation of Delhi Congress leaders -- headed by Delhi Pradesh Congress Committee chief Arvinder Singh Lovely -- met Jung today.
It sought an impartial probe into the case and action against Bharti, based on "available evidence".
"The Delhi police are not probing the case thoroughly. We have urged the Lieutenant Governor to direct Delhi police to proceed as per the law in this case. The law minister is not above the law. Whatever legal action is to be taken, should be taken. The LG has assured us of a fair probe," Lovely told reporters.
Asked if the Congress demanded the sacking of Bharti, the DPCC president said that the party had sought the Lieutenant Governor's direction to Delhi police to take action in the case as per law.
Bharti was involved in a row with Delhi police last week when they refused to raid an alleged drug and prostitution racket.
One of the African women, who recorded her statement before a magistrate, said she identified Bharti as having led the group that barged into her house and attacked them.
Lovely said the Congress delegation also took up the issue of violation of Section 144 of by Delhi Chief Minister Arvind Kejriwal by staging a two-day protest outside the Rail Bhavan in Raisina Hills area.
Asked why the Congress was not withdrawing support from the AAP-led government if the party believed that Bharti was at fault, Lovely said that the Congress had given outside support to the AAP on 18 issues related to public welfare.
"If the AAP government doesn't work on these issue, then we will definitely consider withdrawing support," Lovely said.
Delhi Congress leader Mukesh Sharma, who was also part of the delegation, said the law minister should be arrested for his alleged actions during the late night raid in the Khirki Extension area.