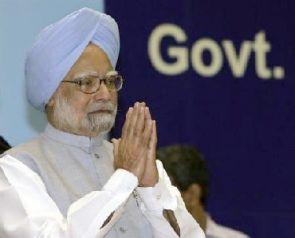 Prime Minister Manmohan Singh on Sunday wrote to Sri Lankan President Mahinda Rajapaksa regretting his inability to attend the CHOGM Summit from November 15.
Dr Singh has written a short letter to Rajapaksa informing him of his decision not to attend the Commonwealth Heads of Government Summit (CHOGM), sources said.
The letter will be delivered to the Sri Lankan President by the Indian High Commission in Colombo, the sources said.

However, it is believed that the letter, whose contents were not disclosed, does not talk about the reasons for Singh skipping the meet.
The Prime Minister has decided against undertaking the visit in view of the opposition by parties in Tamil Nadu as well as a section in Congress.

External Affairs Minister Salman Khurshid will head the Indian delegation at the CHOGM Summit on November 15-16.

Political parties in Tamil Nadu and several other outfits have opposed India's participation at any level in the CHOGM meet alleging that the Sri Lankan government had committed gross violation of human rights and had no plans to devolve powers to the ethnic Tamils.

However, Khurshid has been favouring Dr Singh's presence in the CHOGM scheduled on November 15, maintaining that it was vital as it will reflect India's interests.
According to MEA, it is also paramount to the nation's strategic and security interests.
Asked if there was a possibility of Vice President Hamid Ansari representing India at the CHOGM if Singh decides not to go, a MEA spokesperson had earlier said that in 10 summit level meetings since 1993, the Prime Minister represented India five times while on four occasions, ministers had headed the Indian delegation.
There was one instance of the Vice President representing India.
"So what you can summarise from this is that what we have followed in terms of participation in the CHOGM is an approach of something akin to horses for courses.
"We focused on what is required for our national interest, our foreign policy priorities and our international obligations. Taking those into account we have our delegations led by different people," he had said.