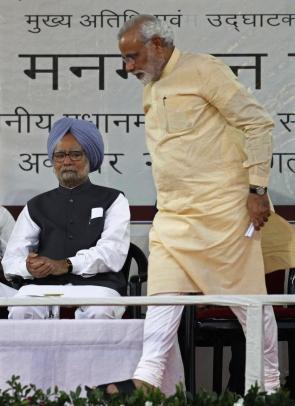 Against the backdrop of Bharatiya Janata Party's prime ministerial candidate Narendra Modi's unrelenting attack against Sonia Gandhi and Rahul Gandhi, Prime Minister Manmohan Singh on Saturday hit back at the BJP, saying the use of "bad" language against political rivals did not bring any dignity to the opposition party.
He also slammed the Raman Singh-led BJP government in Chhattisgarh for failing to curb Naxalism, stressing that the fruits of development have not reached the areas where the writ of the Naxals runs large.
Dr Singh also attacked the state government for failing to provide sufficient security to Congress leaders who were killed in a massive Naxal attack in May this year.
"We should criticise the opposition parties and their policies with which we do not agree. But in this regard, we have to distinguish ourselves, especially from the BJP, some of whose leaders use bad language against other party leaders and chief ministers," Dr Singh said without naming anyone.
He said Congress workers should refrain from using words which are 'insulting' and are against the 'dignity' of the party.
Addressing party workers at an indoor stadium in Raipur, Dr Singh said it was legitimate for political parties to aim to come to power.
"But to achieve the goal, no party should follow the route of cheap publicity. Elections to the state assemblies and the general elections are nearing. Keeping this in mind, opposition parties are making various claims. Some senior opposition leaders are saying things which are not based on facts," Singh said.
He also said that on many occasions, "over-excited BJP leaders change history and geography of the country."
"The people of Chhattisgarh and India are aware that parties that talk big are not capable of coming to power...we should alert the people about parties which have a communal ideology but are talking about secularism to mislead people," he said.
Image: BJP's prime ministerial candidate Narendra Modi with Prime Minister Manmohan Singh ' Photograph: Amit Dave/Reuters