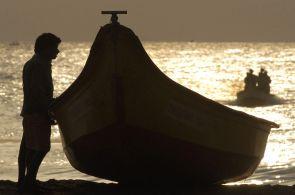 The Sri Lankan navy on Thursday arrested 32 Indian fishermen for alleged illegal fishing off the east coast, taking the total number of fishermen arrested during the last two days to nearly 70.
The fishermen were arrested early morning off the coast of Pulmoddai in the eastern seas and they were being escorted by the navy to reach the port of Trincomalee, Naval spokesman, Commander Kosala Warnakulasuriya, said.
The fishermen would face legal action at Trincomalee. Official sources said the fishermen were arrested and their four trawler seized while they were fishing in the Palk Straits on charges of crossing the International Maritime Boundary Line.
The arrest came after some 37 Indian fishermen were arrested for breaching the IMBL off the northern coast of the island on Monday.
The issue of Indian fishermen breaching Sri Lanka's IMBL figures heavily in the bilateral talks across Palk Straits. During a recent visit to Colombo by External Affairs Minister Salman Khurshid, Sri Lankan President Mahinda Rajapaksa said the issue of fishermen must be best left to be dealt with by the respective fishermen communities.
Khurshid had said the proposed meeting between fishermen's representatives would produce "more productive and more lasting" results.
On Wednesday, India said it is planning to organise a meeting of fishermen representatives of both the countries to find an amicable solution over fishing in Palk Strait.
Minister of State in Prime Minister's Office V Narayanasamy said India would take up the issue of frequent attacks on Indian fishermen with Sri Lankan high commission officials in New Delhi as there was no let up in such incidents even after recent talks Khurshid had with Rajapaksa.