China has 'violated the sovereignty' of not just the United States but of countries across five continents, Secretary of State Antony Blinken alleged Wednesday, days after US fighter jets shot down a Chinese surveillance balloon.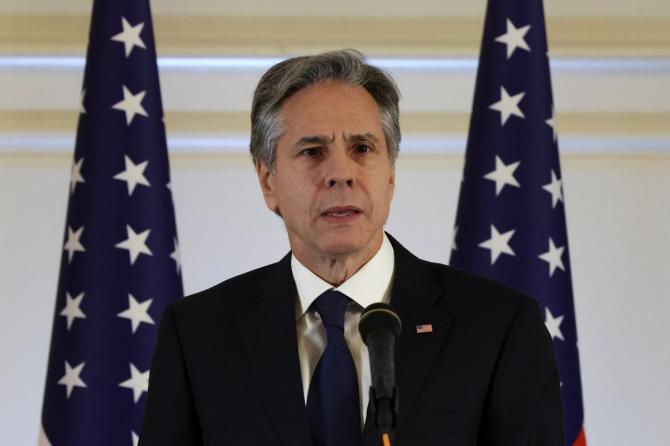 Earlier this week, Deputy Secretary of State Wendy Sherman briefed diplomats from about 40 friendly nations, including India, Japan and Australia, over the surveillance balloon.
The balloon was shot down on Saturday off the coast of South Carolina in the Atlantic Ocean.
It had hovered over continental America for several days after entering the US airspace on January 30 in Montana.
China has acknowledged that the ballon was theirs but denied that it was for surveillance purposes rather for weather monitoring and that it had drifted off course.
The US, however, has asserted that it has enough evidence to prove that this was a surveillance balloon.
It accused China of intruding on its sovereignty and violating international laws.
China on the other hand has alleged that the United States has violated international law by shooting down its balloon.
According to a report of The Washington Post, based on interviews with several anonymous defence and intelligence officials, China has operated a fleet of spy balloons targeting several countries including India and Japan.
In a joint news briefing on Wednesday with the visiting NATO Secretary General Jens Stoltenberg, Blinken said, "The United States was not the only target of this broader programme which has violated the sovereignty of countries across five continents."
"In our engagements, we are again hearing from our partners that the world expects China and the United States to manage our relationship responsibly. That's precisely what we've set out to do. We continue to urge China to do the same," he told reporters.
A day earlier, the Pentagon said that China has declined Washington's request for a telephonic call between US Defense Secretary Lloyd Austin and his Beijing counterpart Gen Wei Fenghe.
On Wednesday, Stoltenberg said the Chinese balloon over the United States confirms a pattern of Chinese behaviour, and it has been seen that Beijing over the last few years has invested heavily in new military capabilities, including different types of surveillance and intelligence platforms.
"We have also seen increased Chinese intelligence activities in Europe again, different platforms. They use satellites, cyber, and as we've seen over the United States, also balloons.
"So, we have to be vigilant. We need to be aware of the constant risk of Chinese intelligence and then step up what we do to protect ourselves," the NATO secretary general said while highlighting that security is not regional but global.
What happens in Asia matters for Europe, and what happens in Europe matters for Asia and also North America, he said.
"This message was confirmed during my visit to Japan and South Korea last week, where those close partners of NATO very much highlighted the importance of strengthening the cooperation between NATO and our partners in the Indo-Pacific to address the challenges that China poses to our security, values, and interests," Stoltenberg said.
Defence Department Spokesperson Gen Pat Ryder told reporters at a Pentagon news conference that the US is in the process of updating its international allies and partners.
"Clearly, we maintain an intelligence-sharing relationship with many countries, and so as we have information to provide and as we currently are, we will share that information, he said.
Ryder said that Chinese balloons have been spotted in various parts of the world.
"When you look at the scope of this (Chinese balloon surveillance) programme and the fact that we know that these balloons have been spotted, and what we now can subsequently assess to be Chinese balloons operating over at least five continents in regions like Latin America, South America, Southeast Asia, East Asia and Europe.
"It demonstrates why, for the Department of Defense, China remains the pacing challenge, and something that we'll continue to stay focused on," he said.
White House Press Secretary Karine Jean-Pierre told reporters that these balloons are all part of a Chinese fleet developed to conduct surveillance operations, which have also violated the sovereignty of other countries.
"Over the past several years, Chinese balloons have previously been spotted over countries across five continents. We have been in touch with allies and partners on this issue," she said.