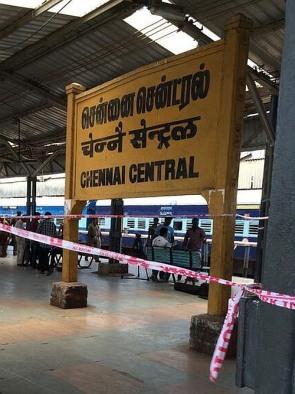 'I reported to two people at the Pakistan High Commission in Colombo and informed them about my reconnaissance activities, which I carried out under the guise of being a footwear exporter. I photographed various sensitive locations, including nuclear stations and the US consulate in Chennai and handed over the information to them.'
These statements by terror suspect Zaheed Hussain reveal how Pakistan is playing an active role in spreading terror in the country. Vicky Nanjappa presents an excerpt from the ISI spy's confession.
Zaheed Hussain, the alleged suspect in the Chennai twin blasts on May 1, which killed one and injured 14 others, has made a chilling confession to security officials. His revelations clearly expose how Pakistan is playing an active role in spreading terror in India. His confession spells out exactly how Pakistan's Inter-Services Intelligence directorate and terror outfits in the neigbouring country are taking control over southern India.
Hussain's confession
'I reported to two people at the Pakistan High Commission in Colombo. Most of my interaction was with Ameer Siddique, who is employed at the consulate, but I was also in touch with another officer by the name of Shah. However, he had asked me to refer to him as 'Boss'. We were just laying the groundwork in south India and our instructions were to start off in Chennai. I was assigned this job and posing as a footwear exporter, I began to go about my job.
'I landed in Chennai and started to build my sources. I photographed sensitive locations in Vizag and Kochi and also did reconnaissance of the United States consulate in Chennai. Over the next couple of days, I prepared a dossier on important locations, including nuclear stations and naval bases. During this entire period, I was in contact with the officers at the high commission in Colombo.
'After each trip, I returned to Colombo and provided them with the information I had gathered. I made at least 20 trips to various parts of south India and had planned many more such trips. Although they did not disclose to me in detail their future plans, I was informed of an operation which included a resident of Maldives.
'I was also informed of an operation that would involve bombing various targets using car bombs. It's a large-scale operation involving operatives from Maldives and Sri Lanka and the officers at the consulate are taking a keen interest in it.'
When Rediff.com spoke to officials from the Intelligence Bureau about their reaction, an official said, "It is quite evident that Hussain was in the country as part of a large mission. These revelations cannot be taken lightly and security along the coast has to be increased at any cost. We have always maintained that radical elements in Pakistan have set up base in Maldives. We have also maintained that these elements have used the Sri Lanka route into the country."
The IB official added that even though the ISI has been able to penetrate the North and set up a prominent base, the south had always remained a problem. However, they were now making inroads into the South through the age-old sea route and been using it to smuggle arms, ammunition, drugs and fake currency.
Image: The Chennai railway station cordoned off by authorities after the blast.