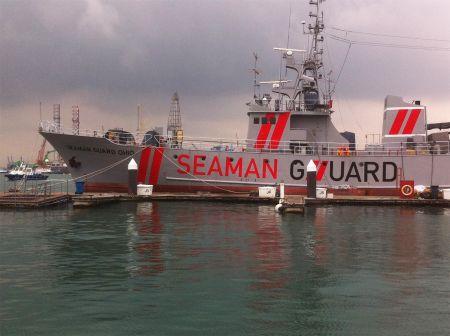 Taking a serious view of the suspicious movement of an American ship in Indian waters, the Centre on Monday sought a report from the Tamil Nadu government on the vessel which was detained for carrying arms and buying diesel unauthorisedly.
The Union home ministry conveyed to the Tamil Nadu government and other agencies involved in probing the case to find out details of the ship, the crew members and its armed guards and also its purpose of cruising in Indian territorial waters.
"We want a detailed report. It is a serious matter as the ship was carrying arms and bought diesel in India illegally," a home ministry official said.
The vessel, MV Seaman Guard Ohio, whose crew included eight Indians, was intercepted and detained by the Indian Coast Guard about 15 nautical miles east of Tuticorin on Saturday.
An FIR has been registered against 10 crew members and 25 guards of the detained ship by the Tamil Nadu Marine Police for illegally carrying arms and ammunition.
Besides, a case under the Essential Commodities Act has also been registered for buying 1,500 litres of diesel illegally with the help of a local shipping agent.
A senior marine police official said the ship, stated to be belonging to a US-based firm offering maritime security, was not authorised to enter the Indian waters and its mandate was largely confined to regions in the Indian Ocean like the Gulf of Aden, a hotbed of piracy.
"We can always sympathetically consider innocent trespass. But this does not look so. They have authorisation to operate in Indian Ocean areas like the Gulf of Aden. But they have come up to Gulf of Mannar. We are seeing why they came here," the official told PTI from Tuticorin.
"This is illegal. If needed, diesel could have been procured through legitimate avenues by paying applicable statutory levies. Illegal diesel procurement is among the reasons for the ship coming into our adverse notice," the official said.
The armed guards have been booked under Arms Act for illegally possessing arms and ammunition on board the ship, he said, adding, "They will continue to be interrogated on board the vessel."
Police has intensified probe to ascertain the motive behind the vessel's entry into Indian waters.
The ship has 10 crew members, comprising two Ukranians and eight Indians. The vessel also has 25 security guards (6 British, 14 Estonian, 1 Ukranian and 4 Indians).
Meanwhile, the agents of the ship submitted documents relating to the vessel, the marine police official said.
"We are in the process of verifying these documents," he said but declined to state whether any paper authorizing carrying of arms and ammunition was submitted.
The US Consulate was liasoning with Indian authorities on the issue, he said.
He said the ship crew claimed that they entered Indian waters to get diesel, adding investigation was continuing.
Image: MV Seaman Guard Ohio