The Andhra CM charged the BJP and Centre with 'mud-slinging' and trying to 'damage his credibility'.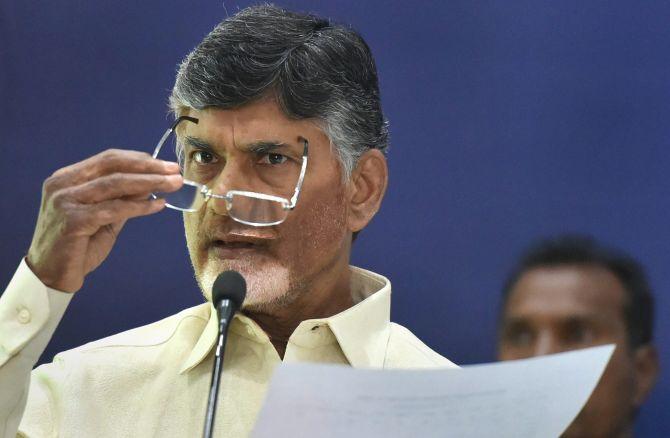 Telugu Desam Party chief N Chandrababu Naidu on Wednesday accused the Bharatiya Janata Pary of 'mud-slinging' and said the Centre was trying to 'damage his credibility' ever since his party began the fight for special category status to Andhra Pradesh.
Speaking at a press conference in New Delhi, the Andhra Pradesh chief minister demanded setting up of a joint parliamentary committee (JPC) to look at the issue.
"After the state was bifurcated, we needed hand-holding and that is why we joined the NDA (National Democratic Alliance). We went for campaigns together and assured people that justice would be done and people voted for us," Naidu said.
"Everyone thought the BJP combination would bring betterment. Despite my 29 visits to Delhi during the last four years, nothing has happened, except minor things. Major things are left to be done," he said.
"People of Andhra Pradesh continue to feel betrayed. But why can't the present government have a review? Appoint JPC and tell them to have a look into the issue," he said.
The chief minister also played clips of Prime Minister Narendra Modi promising the special category status (SCS) to Andhra during public meetings in Nellore, Amaravati and Tirupati.
"During a meet in Tirupati, the PM had said that the capital city of Amravati will be better than Delhi. He even advised me to visit Kazakhstan's capital Astana to get ideas. I do not know what happened after that.
"Now when we are raising our voice, you (the BJP) are harassing my government. The central government is indulging in mud-slinging and it is painful. They want to damage my credibility which was built over a period of 40 years," Naidu said.
Naidu-led TDP had last month ended its four-year-old alliance with the BJP and walked out of the NDA, days after two of its Union ministers resigned over the Centre's refusal to grant special category status to Andhra Pradesh.
Following the move, BJP president Amit Shah had in a letter accused the TDP of being driven by political considerations and not the concern for the state.
When asked if he had reached out to Tamil Nadu Chief Minister Edappadi K Palaniswami, the TDP chief said, "They should support our cause as both the states share an excellent relationship".
"I did not reach out to the Tamil Nadu government. But we are sharing Krishna River water with them and have an excellent relationship. So they should offer support to our cause," he said.
Commenting on his rival Yuvajana Shramika Rythu Congress Party's efforts for getting the special status for the state, Naidu said, "I am fighting the attitude of the central government. I am not talking as TDP president. Some people may adopt different strategies or have a different agenda. But I want support of all parties".
Naidu also accused the Reserve Bank of India of reversing Rs 350 crore fund as special assistance to Andhra Pradesh, without any intimation.
Naidu's charges frivolous, Centre's commitment to Andhra firm: BJP
The BJP, however, dismissed the charges of Naidu against the Union government as 'frivolous' and something which no one will believe, and cited a number of central projects in the state to underline its commitment to development there.
The BJP fielded Union human resource development minister Prakash Javadekar to counter Naidu.
Javadekar, accompanied by state BJP chief K Hari Babu and party spokesperson and Rajya Sabha member G V L Narasimha Rao, accused Naidu of 'blame game'.
The Union HRD minister cited a number of projects linked to Indian Institute of Technology, Indian Institute of Petroleum and Energy, Indian Institute of Information Technology and All India Institute of Medical Sciences, among others, besides the central work on the Polavaram project to claim that the Modi government's commitment to the state's development was firm.
He noted that party chief Amit Shah had in a letter to Naidu listed a number of projects which the Centre had granted to the state.
He also termed Naidu's claim that the BJP was getting close to the YSR Congress as 'ridiculous'.
On the Andhra Pradesh chief minister's comments that the TDP would have fared better in the 2014 Lok Sabha elections if it had not allied with the BJP, he made light of his claim, noting that Modi was a big factor then.
"If there was no Modi or the BJP, where the TDP would be," he said.
"There should be a limit to political acrimony. He is doing politics over the matter of development. He should not go to the extent of saying that the BJP is attacking Andhra," Javadekar said.
The Modi government has been "magnanimous" to the state to the extent that many states have asked it why it was giving so much to one state, he said.
To a question about the BJP's prospects in the state if the TDP and the YSR Congress, the two parties which have moved separate notices of no-confidence motion against the Union government in the Lok Sabha, fought against it, Javadekar said the BJP on its own had fetched over 18 per cent votes in the 1998 Lok Sabha polls.
SC