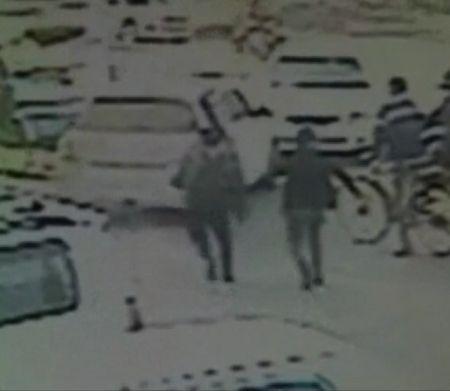 A woman student was abducted outside a Gurgaon college by three persons this morning, but she was freed and the accused arrested within hours after the shocking incident was captured by CCTV cameras.
"All three accused, identified as Jasvir, Mangal and Vicky, a resident of Gurgaon, have been booked for kidnapping under various sections of IPC in GurgaonCity police station. Police are interrogating them to ascertain the reason behind the crime," Anil Kumar Yadav (ACP) City Gurgaon said.
"The case in which a student was abducted at 9.30 am has been solved. She is safely back at her home and police officials have talked to her," Gurgaon Police Commissioner Navdeep Singh Virk told reporters here.
"The accused were known to girl," he said. The incident occurred outside the DronacharyaGovernmentCollege here.
The CCTV footage showed the girl screaming and pounding the open car door of the white Maruti Swift Dzire with her feet, drawing attention of passersby.
The footage showed that one of the accused entered the college through a broken wall at about 9.30 am and called her from inside, DCP (West) Gurgaon Kulvinder Singh said.
After talking to her for a few minutes, he forced her into the car in which three of his associates were waiting.
"As soon the victim came across the wall, the accused dragged her in a white Swift Dzire car and fled from the spot," Singh said.
"The number of the car could not be seen as the plates were covered in mud and gravel," he said.
"We have filed an FIR in the matter and are inquiring with the college management and eyewitnesses. Prima facie it appeared to be a pre-planned abduction," the DCP said.
Yadav said the accused were arrested by two special teams of Special Investigation Team of Gurgaon police after they traced their location to Daultabad village, in the outskirts of the city.
"Police also recovered the Swift Dzire car used in the crime. CCTV footage helped police teams to break the case. The accused persons had roamed in their car for three hours in the city," Yadav added.
After the news of the abduction spread, the accused dropped the girl at a village in the city and tried to evade arrest, Yadav said.
The victim then contacted the family members who in turn contacted the police, he said.
Image: The CCTV footage shows the girl being dragged into car outside Gurgaon's DSD College around 9.45 am on Monday.