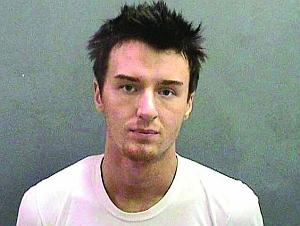 A jury in Orange County, California, has sentenced Vitaliy Krasnoperov in the 2007 double homicide case, in which Anaheim Hills resident Jayprakash Dhanak, 56, and his daughter Karishma, 20, were murdered and their bodies burnt. Dhanak's wife Leela, 54, was also severely injured and was in a coma for months after the attack. Ritu Jha reports.
"Krasnoperov, 27, has been sentenced to life in state prison without the possibility of parole," Farrah Emami, spokesperson, Orange County District Attorney's office, told India Abroad.
Krasnoperov was sentenced for his role in a revenge-murder and attempted murder conspiracy, targetting the family of a co-defendant's ex-girlfriend, Shayona Dhanak, who was then 18.
Krasnoperov was found guilty of two felony counts of special circumstances murder, one felony count of attempted murder, and one felony count of conspiracy to commit murder. This was the second jury trial against him, as a previous jury was unable to reach a verdict on May 10, 2011, Emami said.
"There were so many jury trials because the district attorney's office believed and had proof that these defendants were guilty and we chose to take it to jury trial again," she added.
Emami said one of the co-defendants, Charles Anothony Murphy, is on trial and if found guilty, he will also be sentenced to life in state prison without parole.
He is charged with two felony counts of special circumstances murder, one felony count of attempted murder, and one felony count of conspiracy to commit murder.
He faces sentencing enhancements for multiple murders, murder during the commission of a burglary, murder during the commission of kidnapping, and murder for financial gain.
Murphy faces a maximum sentence of life in state prison without the possibility of parole if convicted and is currently facing his third re-trial as a previous jury was unable to reach a verdict and the second re-trial was declared a mistrial.
The trial against Iftekhar Murtaza, the main accused, is pending and the jury trial will be held early next year. "If he is convicted, he will be facing a possible sentence of a death penalty," said Emami.
Murtaza, who is also scheduled for a pre-trial hearing on December 14, faces the same charges and enhancements as Murphy. The Orange county district attorney is seeking death penalty for him.
"This is a very serious case in which the entire family was destroyed. Shayona must have never thought that dating Murtaza would turn into a horror story. They dated for approximately two years," said Emami.
At the time of the incident, Shayona was not at home since she was a freshman at the University of California, Irvine, and was living in the campus dormitory. She had ended a two-year relationship with Murtaza after which he targetted her family on May 21, 2007, holding them responsible for the breakup.
According to a Orange county district attorney statement, Murtaza believed that the Dhanaks disapproved of his relationship with Shayona, partly because they were practicing Hindus and he was a Muslim.
After the break-up, he is alleged to have contacted his friend Krasnoperov, and revealed his thoughts about killing the Dhanaks in an online conversation. According to the charges, he even discussed ways to murder the victims, including burning their house down or using a hit man.
According to court documents, Krasnoperov offered to contact someone whom he knew was 'used to doing this type of work,' and also instructed Murtaza to obtain a picture of the victims by sending Shayona an online message asking her for a photograph from her recent family trip to India.
On May 21, 2007, Murtaza allegedly contacted and exchanged a series of text messages with his childhood friend, Murphy, and offered him $30,000 'for a job.'
The same evening, Jayprakash, who worked with his wife in Irvine, was in his house alone. The defendants are accused of entering the Dhanaks' home and forcibly restraining Jayprakash, stabbing him repeatedly, and shutting him in a bathroom while waiting for his wife and daughter to arrive.
Later that night, when Karishma returned home, the defendants allegedly forcibly detained her and also attacked Leela with a knife when she returned home.
After moving the three victims to a van outside, the defendants allegedly doused the house with gasoline and set it on fire.
Once outside the house, they continued to beat Jayprakash. According to the police statement, a witness in a nearby park observed the fire and began to run toward the house. As he approached, the defendants allegedly pushed Jayprakash and Karishma in the back of the van and fled.
The witness flagged down a police officer, who was the first to arrive at the scene, and discovered Leela lying unconscious on her neighbor's lawn. The victims' home was engulfed in flames and was largely destroyed by the fire.
On May 22, five hours after fleeing the Dhanaks' Anaheim Hills home, the defendants were accused of taking Jayprakash and Karishma to a bike trail at Mason Regional Park in Irvine, murdering them and setting their bodies on fire.
Officers responding to calls reporting the early-morning fires discovered the bodies, after which the Anaheim police department began investigating the case and identified Murtaza as a suspect.
He was also accused of fleeing Orange County to Phoenix, Arizona, and attempting to flee to India from Arizona with a one-way plane ticket and $11,000 in cash. He was arrested and brought back to Orange County June 13, 2007.
Subsequent investigations led to the arrests of Krasnoperov June 22, 2007, and Murphy August 17, 2007.