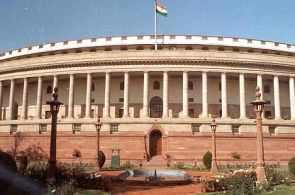 Terming Bahujan Samaj Party member of Parliament Shafique-din Barq's walkout from the Lok Sabha when the national song was being sung as "Taliban-like conduct", the Bharatiya Janata Party on Thursday said such leaders do not have a right to be parliamentarians or even citizens of the country.
"Every session of Parliament, which is the temple of democracy, starts with the national anthem and ends with the rendition of the national song 'Vande Mataram'. This has been the practice since Independence. Unfortunately the national song has been dishonoured," BJP vice president Mukhtar Abbas Naqvi told reporters.
Without naming Barq, who was also criticised by Lok Sabha Speaker Meira Kumar for walking out, the BJP said those who do politics in the name and ideology of Baba Saheb Ambedkar, a Dalit icon who headed the committee that drafted the Constitution, have shown disrespect to the national song.
"By boycotting the national song, he has insulted the Constitution and its norms. Those who hate 'Vande Mataram' not only have no right to be a part of the Parliament but also have no right to live in this country," Naqvi said.
The main opposition also attacked the government for keeping mum on the issue. "The government, which is mired in scams and corruption cases, has not reacted at all to this. Such Taliban-like conduct will not be tolerated," Naqvi said.
Barq, a BSP member from Sambhal in Uttar Pradesh, had left the Lok Sabha on Wednesday as the national song was being played to mark the sine die adjournment of the budget session of Parliament, prompting an angry rebuke from the Speaker. "One honourable member walked out when 'Vande Mataram' was being played. I take very serious view of this. I would want to know why this was done. This should never be done again," Kumar had said.
BJP spokesperson Shahnawaz Hussain had said that Barq's act was an "insult to the nation and to Parliament". He had demanded that the Speaker should take action against the BSP MP.