The Bharatiya Janata Party sharpened its attack on Rahul Gandhi on Saturday, accusing the Congress leader of speaking against India in a foreign country and making such allegations about the conditions in the country which even Pakistan does not dare to do.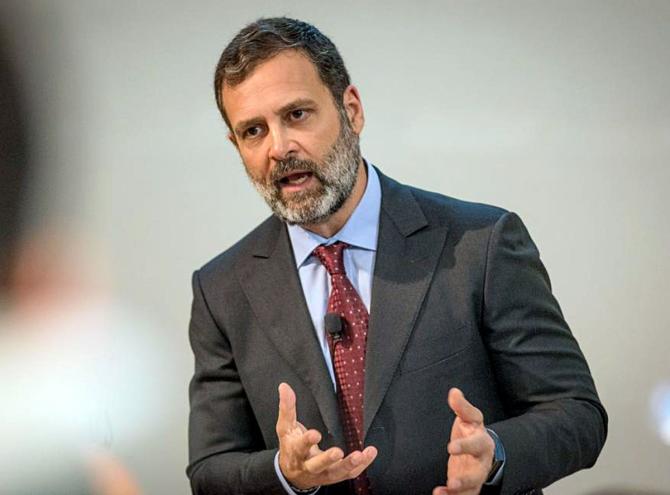 While the whole world is using good words to describe India, its main opposition leader is claiming on foreign soil that the country has been destroyed and democracy is no longer there while the judiciary and the media are in a bad shape, BJP spokesperson Sambit Patra told reporters.
He accused Gandhi of dissuading investors from investing in India at a time when the world is seeing the country as a 'bright spot' and foreign firms are leaving China to do business here.
"In a big university, he is telling people bad things about India. While even Pakistan no longer dares say these things about India on a global forum, Gandhi is presenting it as a place where democracy is no longer there and the judiciary has been compromised," he said.
Patra questioned if Gandhi was working as an agent on the payroll of an agency to bring down India.
At a lecture at Cambridge University, Gandhi had alleged that Indian democracy is under attack and several politicians, including himself, are under surveillance.
The former Congress president listed five key aspects of the alleged attack on Indian democracy -- capture and control of media and judiciary; surveillance and intimidation; coercion by federal law enforcement agencies; attacks on minorities, Dalits and tribals; and shutting down of dissent.
Patra said the Congress leader spoke about minorities being treated as second-class citizens and alleged 'Rahul Gandhi and the Gandhi family can stoop to any low to destroy the fabric of India'.
"Just because you are not a bright kid and not a bright kid of your dynastic party doesn't mean India is not a bright spot," he said, hitting back at the Congress leader.
Patra said Gandhi or other Congress leaders did not even submit their mobile phones for inspection by a probe committee set by the Supreme Court to look into the charge of snooping through the Pegasus malware.
He said an RTI reply had revealed that thousands of phones were tapped and hundreds of emails read by government agencies when the United Progressive Alliance was in power and recalled that former president Pranab Mukherjee, then a cabinet minister, had suspected that his office was bugged at the behest of another minister.
The BJP leader said Gandhi spoke about thrust on harmony and nationalism in China, and accused him of seeing India as an 'agreement' and not a nation.
He spoke of the role of the Yellow River in building Chinese nationalism but could not see the Ganga in India, Patra said.
Patra slammed Gandhi for his remarks at a time when India was hosting the G20, with world leaders recognising the leadership of Prime Minister Narendra Modi.
It is being said that if someone can defuse the Russia-Ukraine conflict, it is Modi, he said.