A day after claiming that surveys indicated that the Congress is projected to win over 140 out of the total 224 seats in the upcoming Karnataka assembly polls, its state president DK Shivakumar on Wednesday said Bharatiya Janata Party's numbers would not cross beyond 65, and may even come down to 40 seats.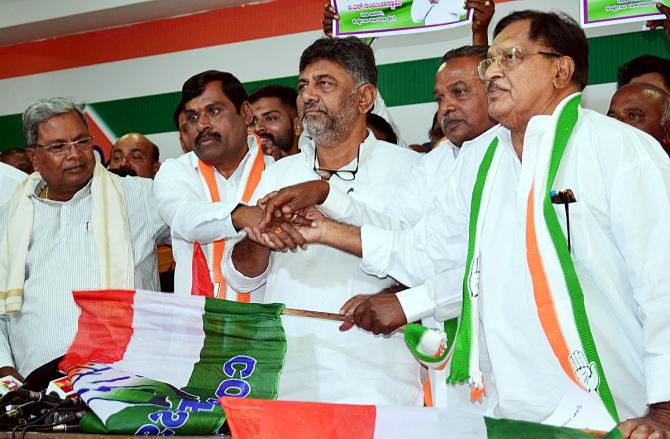 He claimed that people from all walks of life across the state were angry against this BJP government.
"We have a guarantee about our numbers, we also have a guarantee that BJP's numbers will not go beyond 65. What the BJP is doing or saying is their internal matter, Yediyurappa has said something (about winning over 140 seats) based on their calculation, I don't want to interfere with their party," Shivakumar said.
Speaking to reporters in Bengaluru, he said, let the BJP do whatever they want, but their numbers won't cross beyond 60-65," said the KPCC chief.
"This is definite, but according to me it will not be surprising if their number comes down to 40, like they had got 40 seats (in 2013 Assembly polls), after the first term of the BJP government in the state (from 2008-13). So, it will not be surprising if the '40 per cent commission BJP government' comes down to 40 seats, people are that angry, you ask whomever you want, anywhere," he added.
The KPCC chief on Tuesday had claimed that while its earlier survey had projected Congress' seat tally at 136, the recent survey predicted a tally of over 140 seats.
In the 2018 assembly polls, the BJP had won 104 seats in the 224 member assembly, emerging as the single largest party, while Congress and Janata Dal-Secular tally stood at 80 and 37 respectively.
However, BJP's tally increased in the later days giving it a majority in the assembly, as several Congress and JD-S MLAs defected to join the saffron party.
To a question on Congress' screening committee meeting as part of the party's process to select candidates, Shivakumar said, "today too there is a meeting, we have reached a stage, completing almost 75 per cent of the process, today we will complete it fully, after this it will be sent to the national level (AICC)."
"We will do the process (to choose candidates) and intimate those concerned," he said, when asked whether the process was getting too long.
Shivakumar also called Chief Minister Basavaraj Bommai sullina saradaara (lord of lies), as he hit out at the latter for terming Congress 200 units of free power promise as "bogus", stating that the CM himself was making false promises to people or not keeping up the promises made earlier.