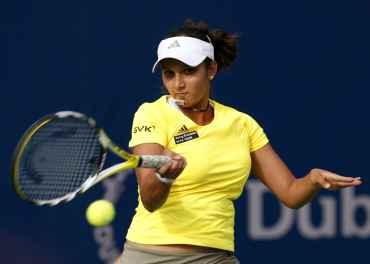 Amid a controversy over a Telangana Bharatiya Janata Party leader describing tennis star Sania Mirza as a "non-local" and "daughter-in-law" of Pakistan, Union Minister Prakash Javadekar on Thursday said the tennis ace is a pride and brand ambassador of India.
"Sania Mirza is a pride of India. Sania Mirza has an international standing on her own... So, we have no objection. I am sure she is pride of India. She is brand ambassador of India," Javadekar, who is Minister of State for Information and Broadcasting, told reporters in New Delhi.
A controversy has erupted over Telangana government appointing 27-year-old Sania as the state's brand ambassador with BJP leader K Laxman describing her as "non-local" and "daughter-in-law" of Pakistan.
"Sania was born in Maharashtra and settled in Hyderabad only later and, hence, is a non-local," Laxman, the leader of BJP in the state assembly, had said.
He also dubbed her as "daughter-in-law" of Pakistan, as she is married to Pakistani cricketer Shoaib Malik.
Describing Sania as the "daughter of Hyderabad", Telangana Chief Minister K Chandrasekhar Rao had on Tuesday appointed her as the state's brand ambassador and handed over a cheque of Rs 1 crore.
Meanwhile, political parties on Thursday attacked Laxman. Condemning Laxman's remark, TRS leader in Lok Sabha Jitender Reddy said, "She is our lady. She belongs to Hyderabad...(If) she has married a Pakistani or an American...that doesn't (matter)...We can't say that she has gone out of her place. She is definitely a Hyderabadi."
He said Mirza was chosen as brand ambassador of the new state as she is staying in Hyderabad and all the medals she is winning are dedicated to Hyderabad.
When reporters sought his reaction on the issue, senior BJP leader Murli Manohar Joshi said, "If such things somebody says it only reflects his culture."
Hitting out at the BJP legislator, Samajwadi Party leader Naresh Agarwal said, "Sania was born and brought up in India. Our coaches (of different sports teams) are also foreigners. In this case, will the BJP say that they should not be made coaches? Why doesn't the BJP oppose it then?"
Congress MP Saifuddin Soz also condemned the Laxman's remarks.
"(Jawaharlal) Nehru said India will always have danger from forces within India....(They are) the BJP, the Shiv Sena, the RSS. They are all sectarian and communal. Didn't you see what the 11 MPs did in the New Maharashtra Sadan?" he said.
K Kavitha, TRS MP and daughter of Telangana Chief Minister K Chandrasekhar Rao, said the decision was taken by the Telangana government and "I don't think it is wrong".
"She has never said that she has given up Indian citizenship. She plays for India and has been awarded by the Indian government on several occasions," Kavitha said.
NCP MP Majeed Memon said, "She is a valuable asset and always played for India. She is a world renowned player and her ranking has only increased. It doesn't matter if she marries a foreign citizen. She has been making India proud".
Meanwhile, the Congress also slammed Laxman. "Laxman has made all these insinuations against Sania. Sports unites all Indians... Sania has done us proud in Asian, Olympic games. She and her family have deep history and connection with Telangana. This is divisive behaviour which all of us should condemn," Congress spokesperson Rajeev Gowda told mediapersons.
When it was pointed out that even Congress MP Rao has reportedly said that Sania is married to a Pakistani and so the people will not appreciate her being made the Telangana brand ambassador, Gowda said, "If Hanumantha Rao has said that, we will dissociate ourselves from it."
Photo: Reuters