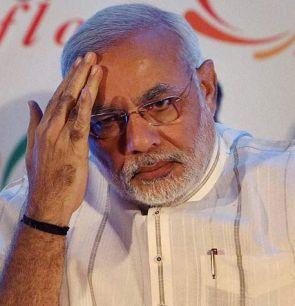 The much-hyped plans of Gujarat chief minister and Bharatiya Janata Party's prime ministerial nominee, Narendra Modi to address a series of election rallies in Uttar Pradesh may run into rough weather.
The reason is not far to seek as the dates selected by the organizers, particularly for Kanpur and Lucknow, could once again ignite communal trouble.

Modi's first UP rally, proposed to be held in Kanpur on October 15, may clash with Eid-ul-Zuha (Bakrid). The Lucknow rally -- planned for December 25 -- coincides with Chehllum, a Shia religious observation that occurs 40 days after the Day of Ashura.
While no one knows whether the selection of these dates was on account of oversight or was deliberate, the state administration is now finding itself caught on a cleft stick over the question of granting permission for rallies on the proposed dates.

Though the final dates for both the Muslim festivals would depend on the visibility of the moon, formal permission for the rallies was likely to be denied if the dates actually clash.
Senior Samajwadi Party minister Rajendra Chaudhary told rediff.com, "Rally karne, rajneetik gatividhiyan karne se humein koyi etraz naheen hai. Agar ab yeh ralliyon ke zariye sabhaon ki aad mein is tarah ki koshishein karenge to phir qanoon bhi apna kaam karega (We have no objection to rallies and other political activities by any party ; but if these people have other designs under the garb of political rallies, then the law will also take its course)."
Senior Congress leader and former UP Congress chief Rita Bahuguna Joshi wonders, "How could the organizers overlook the fact that both dates for Modi's rallies in UP could clash with key Muslim festivals? If the BJP's national organizers have overlooked the fact, it was the duty of their state leaders to have pointed this out to them. I don't believe this could have been an oversight."
While Bakrid is a widely-observed festival, Chehllum is a huge affair particularly in Lucknow where the Shia sect has a sizeable population. It involves large processions, drawing tens of thousands of people on the streets of the state capital.
However, BJP spokesman Vijay Pathak claims, "We had selected the dates according to the convenience of our leader. It never struck us that there was any festival on those dates. As for December 25, the date was selected because it happens to be the birthday of our most revered leader, Atal Bihari Vajpayee."