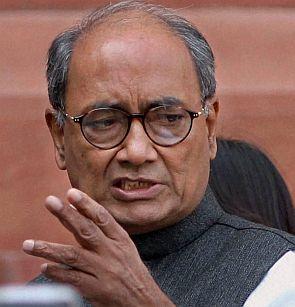 Congress General Secretary Digvijaya Singh on Tuesday alleged that the ruling Bharatiya Janata Party had got 10,000 burqas stitched for its 'Karyakarta Mahakumbh' to be held in Bhopal on Wednesday, for which a real estate company had paid Rs 42 lakh to the tailor, a charge denied by the BJP.
"In order to purchase 10,000 burqas for the 'Karyakata Mahakumbh', an official of a real estate company had come to Indore and paid Rs 42 lakh in advance to a tailor, who had given a bill of Rs 44.60 lakh," Singh told mediapersons in Indore.
The Congress leader also produced before the media the bill purportedly issued by the tailor. The 'Karyakarta Mahakumbh' is to be addressed by Gujarat Chief Minister Narendra Modi in Bhopal.
Meanwhile, Union Minister of State for Power Jyotiraditya Scindia who is the Chairman of the Madhya Pradesh Congress Poll Campaign Committee said, "Shivraj Singh Chouhan talked big things yesterday at the National Integration Council meeting. However, the manner in which the BJP had got burqas stitched has exposed the party."
"The mask which the BJP is wearing, would be removed by the people of the state in the assembly elections," he added.
Reacting to Digvijay Singh's statement, BJP media in-charge for Madhya Pradesh Deepak Vijaywargia said that the bill produced by the Congress leader could be a "fake". "Congress had done similar things in the past," he alleged.
Describing Singh as a person "who could go to any extent", Vijaywargia said there were times when the Congress had distanced itself from his (Digvijiay's) statements. He said that the Congress was resorting to all this as it had no answer to the development undertaken during the last 10 years of BJP rule in the state.