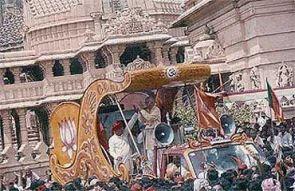 The Baharatiya Janata Party condemned Uttar Pradesh government's crackdown against VHP yatra from Ayodhya and accused it of playing vote bank politics while Samjwadi Party said it won't let the state "become another Gujarat" or a repeat of Dec 6, 1992, when the Babri mosque was demolished.
Opposing the 'Chaurasi Kosi Parikrama Yatra', Congress chose to target both the Samajwadi Party and BJP, claiming it was a purely political exercise and that both parties were "enacting a drama" as there was an "understanding" between them.
"Matchfixing in Ayodhya?," tweeted Digvijay Singh.
But ruling Samajwadi Party in Uttar Pradesh claimed it had saved the state from a confrontation.
"If some people feel that they can disrupt the process of development by spreading communal disorder in the state, they won't be successful. We will not let Uttar Pradesh become another Gujarat. There is no place for communal tension in the state," Samajwadi spokesperson Rajendra Chaudhary.
Senior UP minister Azam Khan said he was "thankful to the people that they have not fallen in the VHP's trap.
"We have saved UP from any sort of confrontation which might had placed the large number of peace loving people in hardship," Khan said in Rampur, adding "very few detentions have taken place, otherwise everywhere there is calm and people are unfazed by VHP's calls".
He termed the yatra as an attempt to spoil the atmosphere of the state with an eye on the 2014 elections.
"People have understood the game VHP and BJP are playing....will make sure that the loss that was suffered on December 6 1992 is not repeated again," Khan said.
Condemning the arrest of Ashok Singhal and other religious leaders, BJP said the Uttar Pradesh Government should not have interfered with the yatra.
"BJP strongly condemns the action of the Uttar Pradesh government in arresting Shri Ashok Singhalji, in detaining the sadhus and sants from taking out the yatra. India is a free country. People have got every right to move around, to take out yatra. You can regulate the yatra. How can you stop it? It is all being done keeping in mind only vote-bank politics," senior BJP leader M Venkaiah Naidu told reporters in Hyderbad.
Party leader Shahnawaz Hussein accused SP of disrupting communal harmony for its vote bank politics and said there was no "tension" as was being claimed by UP authorities.
Goa Chief Minister Manohar Parrikar said "I don't think there is any law and order issue and thereby going (taking out yatra) to Ayodhya doesn't make any difference. At most you could have tightened security in Ayodhya"
There should be freedom for the Hindus, Muslims and Christians in religious matters, he told reporters in Bangalore.
Seeking an early resolution of the Ram temple issue, BJP Vice President Uma Bharti said Samajwadi Party is creating a "hype" around the VHP yatra from Ayodhya for votebank politics.
Union Minister Salman Khurshid said that the decision to ban VHPyatra has been taken by the Samajwadi Party government of Uttar Pradesh and Congress had nothing to do with it.
"Congress has no hand in putting brakes on VHP's parikrama programme and the Samajwadi Party government has imposed a ban on it", Khurshid said in Etah.
"Though everyone has the right to follow the traditions of their respective religions and governments should respect them, we are opposed to religion being turned into politics and made its tool," he said.
His colleague Beni Prasad Verma, however, lashed out at both BJP and SP.
"The demolition of the Babri Mosque as well as this parikrama is the drama of BJP and Samajwadi Party but it would have impact as both the communities are well aware of it now," the Union Steel Minister said in Lucknow.
He alleged that a closed door meeting was held between SP and VHP leaders asked as "to how VHP leader Pravin Togadia could reach Ayodhya despite massive security arrangements and why Ashok Singhal was allowed to arrive in Lucknow when he could have been stopped at Delhi itself by serving arrest warrants".
"It is for vote bank politics as UP has maximum Lok Sabha seats," he said.
Alleging that there was an understanding between SP and BJP, he claimed that he had been told by BJP MPs that "in party meetings earlier L K Advani has stated that in case the party fell short of 10 to 20 MPs Mulayam Singh would be taken along".
Minister of State for Human Resource and Development Jitin Prasad said SP and BJP are involved in a "fixed match eyeing on their respective vote-bank politics and thus attempting to befool people of Uttar Pradesh.
"The people of the state are fully aware of these political gimmicks and will give a befitting response at the appropriate time."
Congress leader Rita Bahuguna Joshi alleged that the saffron outfits wanted "to repeat the 1992 situation".
BJP's former ally JD(U) opposed the VHP's controversial yatra saying no politics should be played in places of worship.
"There should no politics in places of worship," state unit JD(U) president Vashistha Narayan Singh told reporters in Patna
"The yatra's protagonists should realise that their use of religious places for furthering political interests may set an example for other religious groups to do the same," the JD(U) leader warned.
Image: Advani embarking on his Somnath to Ayodhya rath yatra
Photographs: Rediff archives