Former Jalandhar bishop Franco Mulakkal, who was acquitted by a local court in Kerala last year over rape charges by a nun, met Pope Francis in Vatican last week, a church source said in Thiruvananthapuram on Tuesday.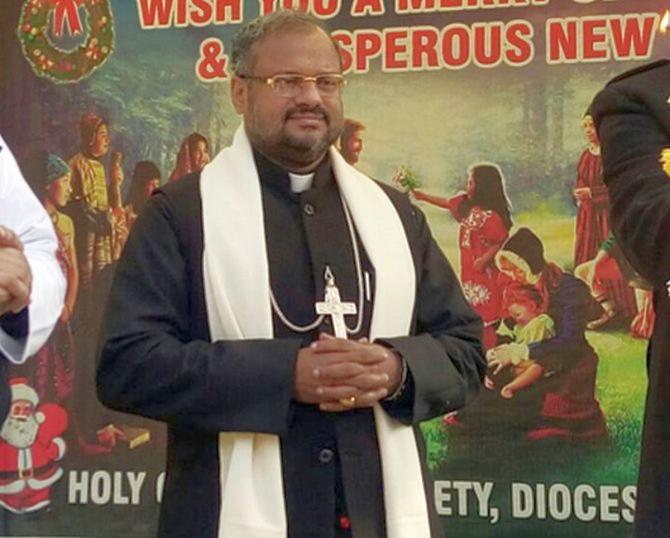 Mulakkal met the Pope on February 8 and it was his first meeting with the pontiff after being acquitted by the additional district and sessions court I, Kottayam, in the rape case, the source close to Mulakkal told PTI.
"The Pope was happy to see him, was glad to hear that we won the case and consoled him for his suffering by encouraging him to join his (Pope's) suffering with that of the Lord," he said.
The pontiff requested him to pray for him too, the source said.
In September 2018, the bishop was temporarily relieved of his responsibilities of the diocese by Pope Francis after Mulakkal was questioned by the Kerala police over rape charges levelled by the nun.
Despite being acquitted by the local court in the sensational case, Mulakkal has not got any new responsibilities in the Church.
Asked whether the bishop had requested the Pope to provide him with pastoral or administrative responsibilities, the source said he did not speak about it during his meeting.
"He will obey whatever the Holy Father decides," the source said, adding since the bishop is directly under the command of the Pope, the authority of fixing his responsibilities rests with the Vatican itself.
The Vatican had earlier accepted the court's decision, acquitting him of rape charges.
The nun, who claims to have been raped by the bishop has moved the Kerala high court against his acquittal in the case by the trial court.
Mulakkal was accused of raping the nun multiple times during his visit to a convent in Kottayam between 2014 and 2016 when he was the bishop of the Jalandhar diocese.
The nun is a member of the Missionaries of Jesus, a diocesan congregation under the Jalandhar diocese.