Lok Janshakti Party, which fielded 137 candidates in Bihar assembly polls, managed to secure only one seat.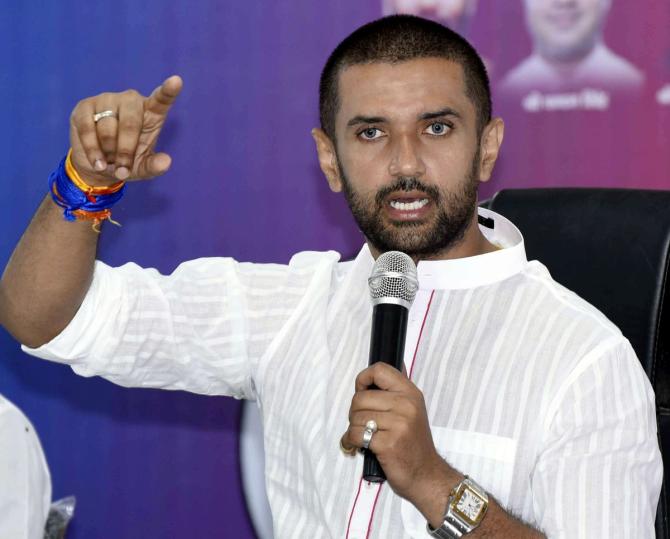 LJP candidate from Matihani constituency, Raj Kumar Singh defeated Janata Dal-United's Narendra Kumar Singh aka Bogo Singh by a slender margin of 333 votes.
The LJP candidate got 61,364 votes whereas Bogo Singh received 61,031 votes.
Except for five seats where the BJP was contesting, the LJP fielded candidates against the JD-U.
The party, which had broken away from the National Democratic Alliance, primarily in opposition to the Nitish Kumar had also given tickets to as many as 25 Bharatiya Janata Party rebel leaders who joined the LJP.
The overall party performance by the LJP was poor as compared to the 2015 elections.
However, its vote share this time was higher with 5.7 per cent compared to 4.83 per cent in the 2015 elections.
Ahead of the Bihar polls, several top BJP leaders including Union minister Prakash Javadekar and Bihar deputy chief minister Sushil Kumar Modi had called LJP a 'vote katua'.
They had also accused him of creating confusion in the minds of the electorate by claiming close proximity to senior BJP leadership, including Prime Minister Narendra Modi.
Paswan described the Bihar polls results as a "victory" of Prime Minister Narendra Modi, saying the people have shown their trust in him.
"All LJP candidates fought gloriously on their own without any alliance. The party's vote share has increased. It had gone to the polls with the resolve of 'Bihar first Bihari first'. It has been strengthened in every district. This is bound to benefit the party in the future," he said, while thanking people.
The NDA won an absolute majority in Bihar winning 125 seats whereas Mahagathbandhan settled with 110 seats in a closely contested election that saw counting continue stretching over 20 hours and wrapping up only in the early hours on Wednesday.
While BJP performed a stellar role in NDA's victory winning 74 seats, RJD also gave a spectacular performance by bagging 75 seats and emerged as the single largest party in the 243-member Bihar legislative assembly.