'The BJP has the torch and with that same torch, the BJP is trying to light up its house in Bihar.'
'The BJP is trying to burn Nitish Kumar's house with that torch.'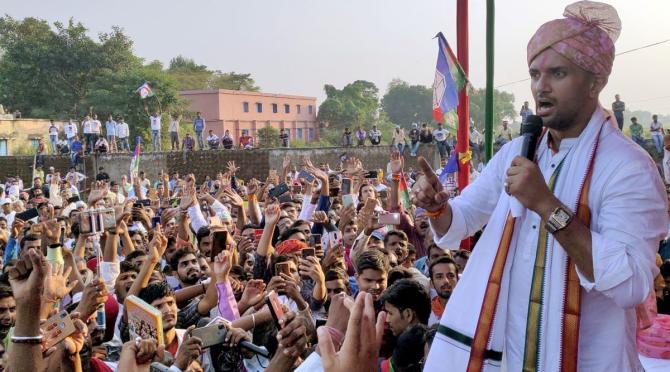 Shaktisinh Gohil is in charge of the Congress party's campaign in Bihar. A member of the Rajya Sabha from his native Gujarat, Gohil spoke to Senior Rediff.com Contributor Sheela Bhatt a day before the first phase of the Bihar election.
What is the big picture of Bihar 2020?
Nitish Kumarji is ruling the state for the last 15 years and there were lots of expectations from him from the people.
Unfortunately, after joining hands with the BJP, there is no ideological similarity. Just for power they are together, and that is why Nitish Kumarji, who was known when he was with us as 'Sushasan babu', he is now known as 'Kushasan babu'.
They call it the 'double-engine' ka government. Yes, there are two engines, but one is trying to pull east and one is trying to pull the train west and that is why there is no progress in Bihar. Even the Niti Aayog has said, in sustainable development, Bihar is at the bottom in the country.
What is the political situation on the ground?
Right now, the people of Bihar say we want change. We have given the slogan -- that's not from my party, but it is coming from the heart of the people -- 'Bole Bihar, badle sarkar'.
People want change. There is a new hope for a very young leader (Tejashwi Yadav) who doesn't have any baggage, who believes that every community, every caste, should come together and work together to have progress in Bihar.
So new hope has arisen in Tejashwi's leadership and I am sure that the blessing of the people will go towards our Mahagathbandhan.
I will say, 'dalon ka nahi, dilon ka milan hai' (not of groups, but a coming together of hearts), that is the Mahagathbandhan.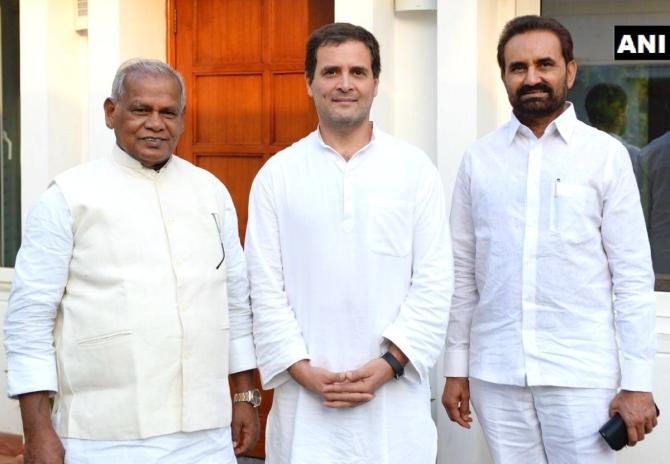 What is common between a mainstream party like the Congress and a radical party like the CPI-ML?
In our Mahagathbandhan, the RJD is the big brother, it's a big party, and it is our oldest alliance.
People of Bihar wanted a Mahagathbandhan where the anti-incumbency vote should not be divided and that is why very wisely and rightly, when the Congress and RJD met, we decided that we will have a Mahagathbandhan, but with whom?
So the RJD and Congress decided that all the Left parties will be our allies. Our differences we will sort out through a common minimum programme.
Soon we will come to power, we'll deliver what we have said.
You can't be unrealistic to say that Bihar voters do not vote on basis of caste identity. It is argued that the caste arithmetic favours the NDA.
Look, Bihar is the land of Chanakya. The people of Bihar are very smart. A survey was conducted and it came out that in the entire country who listen most to BBC news? Hindi news? Bihar was the topper.
Today in the UPSC exam, Bihari youth are having good numbers. The people here are politically alive, they have a very good understanding, they are very smart.
This time, the people want to give a chance to a young leader who doesn't have any baggage and who speaks the language of Bihar, who is concerned about the development of Bihar.
Don't you think Modi will make the difference, that people will vote for Modi if not Nitish Kumar?
Modiji was popular in 2014, but when in 2015 (for the assembly election campaign) he came to Bihar, he delivered speeches, but he lost.
'If Nitish wins, there will be firecrackers in Pakistan, don't vote for Nitish,' Modiji's party said.
'JD-U means Janata ka daman aur Utpeedan, mitron': People didn't listen to Modiji. The votes were given to us (the JD-U was in alliance with the Congress and RJD or the 2015 election).
Nitishji then said 'BJP means Badka Jootha Party.' Nitishji said, 'I will turn into dust, but I will not join hands with the BJP again.'
Modiji said, 'There is something wrong with Nitish's DNA. DNA is something a person is born with and it doesn't change till they die.'
So now people in Bihar are asking Modiji, what do we believe? What you said in 2015 or what you said in 2020?
I believe the coalition that exists right now in the NDA, it is hollow.
The BJP has the torch and with that same torch, the BJP is trying to light up its house in Bihar.
The BJP is trying to burn Nitish Kumar's house with that torch.
This hidden agenda is something that the smart voters of Bihar have understood.
Is the era of social justice ending and an era of economic justice beginning in Bihar?
Look, there is a new era starting in Bihar. There will be a change.
This is social justice because there is no coordination between the political ideology between BJP and JD-U and therefore people want our coalition.
The NDA has Chirag Paswan, and they have unleashed him against Nitish Kumar everywhere.
Chirag claims he is Modi's Hanuman. They (the BJP) have burned that Hanuman's tail and let him loose on Nitish Kumar.
So if you are going to play such games, where is the commitment?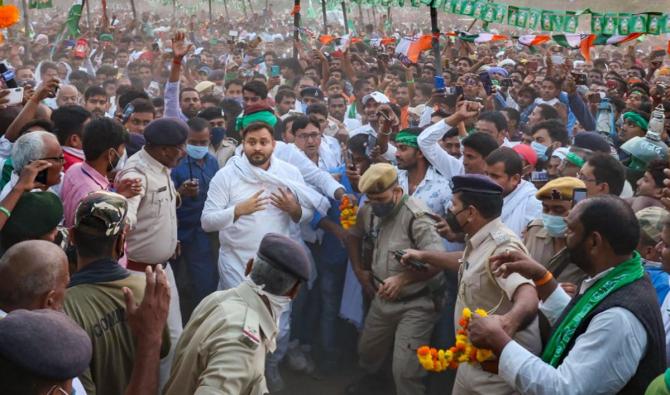 Do you think that Tejashwi Yadav is emerging as the new political star?
I do think that in the mahagathbandhan, Tejashwi Yadav is our face and someone who has very clearly put the past behind and said that I will move forward with everyone, all castes. You can see the RJD tickets that he has given are inclusive of every community.
Our mahagathbandhan ticket distribution includes EBCs, OBCs, Brahmins, Rajputs, Bhumihars and other small castes who no one else has given tickets to.
If the BJP wins, which issues will it win on?
There is no question of the BJP winning, that even they know and therefore they have tried to con the gathbandhan.
The BJP has a history of falling at the feet of the allies when the need arises.
When their need is fulfilled, they attack the alliance. Whether it be the alliance in Jammu and Kashmir with the PDP or their oldest allies, the Shiv Sena, or Akali Dal.
They are trying to bring down Nitish Kumar, but the BJP have got themselves stuck in their own trap and they cannot come to power.
Ask the BJP why hasn't Chirag been removed from the NDA?
If you win, what issue will it be on?
If we win, Tejashwi will be the chief minister
We will win for three things. Firstly, we have a positive agenda, we are not fighting negatively. We are contesting for Bihar's issues.
Again and again, the BJP tried to play 370/ Hindu-Muslim politics, and we keep telling them repeatedly don't talk of hatred. And therefore, we ask everyone to focus on the issues specific to Bihar.
Feature Presentation: Rajesh Alva/Rediff.com