A man was arrested from Bihar's Jamui district on Monday for allegedly sharing on social media fake videos of alleged attacks on migrant workers from the state in Tamil Nadu, police said.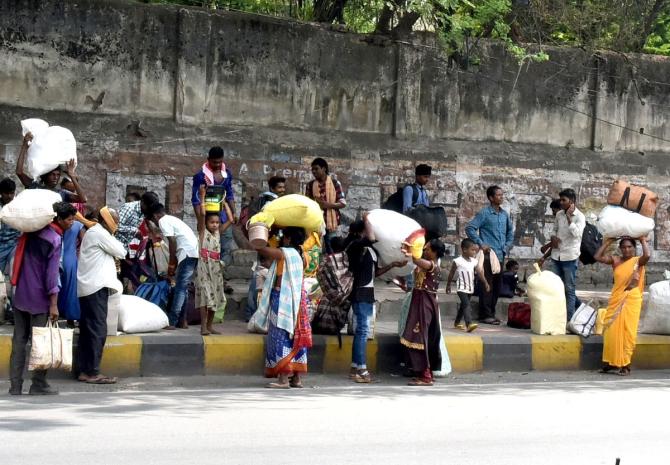 The Economic Offence Unit (EOU) of the Bihar Police has booked four persons in connection with the case, they said in a statement.
Those named in the case have been identified as Aman Kumar, Rakesh Tiwary, Yuvraj Singh Rajput and Manish Kashyap.
Aman Kumar, a resident of Laxmipur in Jamui district, was arrested while a search is on for the rest, police said.
'An investigation by the EOU has revealed that the accused were indulging in spreading fake videos of migrants being killed and beaten up in Tamil Nadu on social media,' the statement said.
Thirty such videos were widely shared on social media, forcing migrant workers from Bihar flee Tamil Nadu in panic, police said.
Notices have been sent to service providers for preserving 42 such videos -- nine on Facebook, 15 each on Twitter and YouTube, and three on Gmail -- for further investigation, they said.
"A 10-member team of the EOU is analysing these videos," police said, adding that those posting and sharing such videos for spreading rumours will be dealt with strictly.
The Bihar government has sent a four-member team of top officials to Tamil Nadu to coordinate with officers who were investigating the matter there.