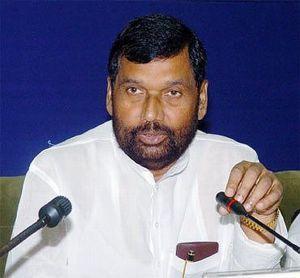 Amid heightened speculation of an alliance between the Bharatiya Janata Party and the Lok Janshakti Party, an influential section of the Bihar BJP has expressed its disapproval of the tie-up, saying it will harm the party's anti-corruption plank and hurt its support base.
A number of Bihar leaders have been called to Delhi by the BJP central leadership for consultation with sources saying that some of the senior figures, including former state unit president CP Thakur, have expressed reservations about any alliance with Ram Vilas Paswan's party.
Bihar BJP leader Ashwini Kumar Choubey has already come out against the tie-up, saying it would be "suicidal" for the party. Choubey has termed LJP a "corrupt, dynastic and casteist" party.
"The people, especially the youth, are with the BJP this time because Narendra Modi symbolises honesty and development for them. Paswan's image won't help. His closest aides, who will fight with our support, are history-sheeters," a party member said in reference to LJP leaders Suraj Bhan Singh and Rama Singh.
However, it is learnt that former Bihar deputy chief minister Sushil Kumar Modi and leader of the opposition in the Assembly, Nand Kishore Yadav, are positive about the alliance proposal.
State leaders said they were not sure if Modi favoured such an alliance, but if he was for such a tie-up, the party may not have any other option but to go with his choice.
"I am not sure how much it will benefit us at the ground level. It may even harm us. But many in the party believe that the alliance will have a far-reaching impact, more so as
Paswan had walked out of the National Democratic Alliance over the 2002 riots in Gujarat," BJP sources said.
Meanwhile, the Congress remained hopeful that Paswan would continue in the United Progressive Alliance fold. Party spokesperson Shaktisinh Gohil dubbed the speculation on the LJP walking out of UPA to join BJP as "premature".
"No final decision has been taken and I hope like-minded secular parties will think in terms of ideology," he said.