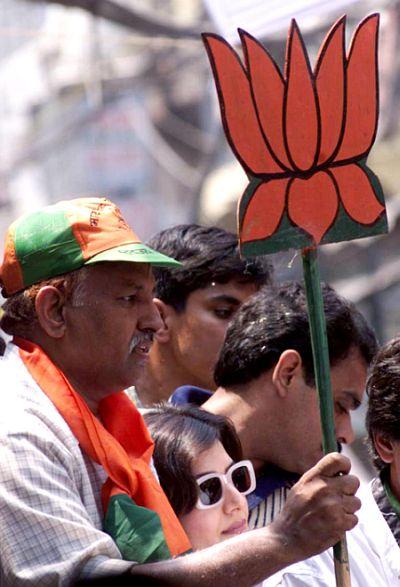 The Bharatiya Janata Party got a shot in the arm on Monday with two sitting Independent members of the Lok Sabha from Bihar -- Putul Kumari and Om Prakash Yadav -- joining the party ahead of the general elections.
Putul Kumari, who became MP from Banka constituency in November, 2010 after her husband and sitting MP Digvijay Singh expired, joined the BJP in the presence of party president Rajnath Singh.
Another first time MP Om Prakash Yadav, who represents Siwan in the Lok Sabha, also joined the BJP.
After its alliance with the Janata Dal-United broke in Bihar, the BJP has been engaged in strengthening its cadre and presence in the state.
With the BJP's prospects arguably on the rise, political leaders from various states have sent overtures to the party to join it ahead of the Lok Sabha elections. The party is likely to induct some more leaders in the coming days, sources said.
Welcoming the two MPs to the BJP, Rajnath Singh said people are unhappy with the Congress and want a change of government. "The Congress has also accepted the fact that it will lose the Lok Sabha elections. As I said at our party conclave, the Congress will indulge in all kinds of activities in its bid to prevent the BJP from coming to power," Singh said.
He claimed that the BJP's Prime Ministerial candidate Narendra Modi is the most popular leader in the country on Monday.