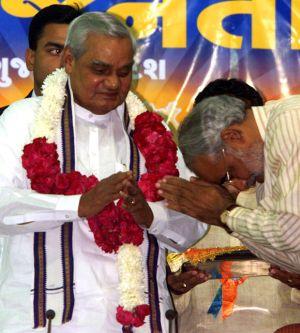 Prime Minister Narendra Modi said the conferment of Bharat Ratna on Madan Mohan Malviya and Atal Bihari Vajpayee was a "fitting recognition" of the services of the "illustrious stalwarts" to the nation.
"Bharat Ratna being conferred on Pt. Madan Mohan Malaviya & Shri Atal Bihari Vajpayee is a matter of great delight," Modi tweeted soon after the announcement of the country's highest civilian honour being bestowed on them.
"Country's highest honour to these illustrious stalwarts is a fitting recognition of their service to the nation," he added in another tweet.
He said Malaviya is remembered as "a phenomenal scholar & freedom fighter who lit the spark of national consciousness among people".
About the former Prime Minister, Modi said, "Atal ji means so much to everyone. A guide, inspiration & giant among giants. His contribution to India is invaluable."