'The last three phases, the Trinamool gained more than expected due to Covid mismanagement by the Centre.'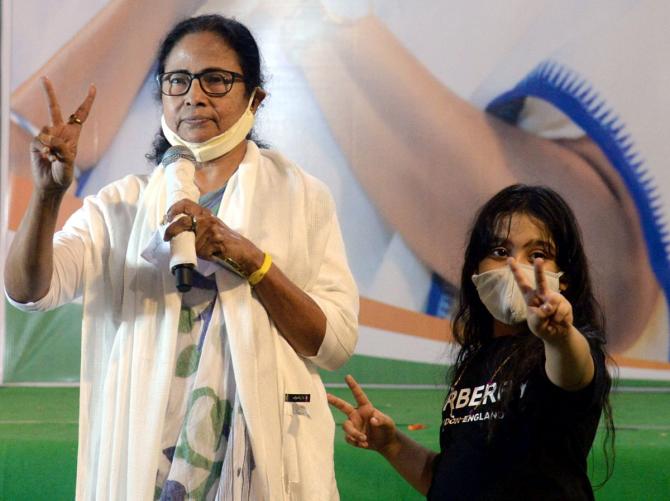 Trinamool Congress leader and West Bengal Chief Minister Mamata Banerjee -- who lost the assembly election in Nandigram after much confusion over the result on Sunday evening -- will have to get re-elected to the West Bengal assembly in six months.
In the high-stakes 294-seat election, the Trinamool Congress produced its best-ever performance with leads in 216 seats and a vote share at 48 per cent, as Bengal shrugged off allegations of 'cut money' and corruption levelled against the incumbent by the Opposition.
'This is Bengal's victory and victory of the people. They talked about a double engine government, but I said, we will get a double century. And you know what has happened,' Banerjee said.
The Bharatiya Janata Party made huge gains from its performance in the assembly election of 2016, but fell far short of its own projection of 200 seats, even as its central leadership -- from Narendra Damodardas Modi to Amit Anilchandra Shah, central ministers and CMs from states ruled by the party -- flew in and out for the campaign.
The BJP's performance peaked in the Lok Sabha election of 2019 and its vote share surged to 40.64 per cent with the seat tally at 18. That surge had indicated that Bengal could be headed for poriborton (change).
Even though the BJP has lost vote share since then, the mandate reconfirmed that the fight in Bengal was now completely bipolar -- between the BJP and the TMC -- as the Left Front-Congress-Indian Secular Front alliance fell flat.
Political analysts pointed out that in Malda, Murshidabad, and North Dinajpur, the minority votes had almost entirely shifted to the Trinamool from the Congress.
"The last three phases, the Trinamool gained more than expected due to Covid mismanagement by the Centre. It seems there was a swing in favour of the TMC," said an analyst.
About 114 seats went to vote in the last three phases across Malda, Murshidabad, Dinajpur, Kolkata (South and North), Bardhaman and Birbhum. The notable Trinamool turncoats who had joined the BJP ahead of the election, lost.
"Partially, this is also a mandate for Banerjee's welfare schemes," said an analyst.
Banerjee's next task is cut out, too, and that is to manage the rising Covid cases in the state. She said that she would lead a movement against the Centre for free vaccines.