On a day Telangana's ruling Bharat Rashtra Samiti (BRS) MLC K Kavitha was summoned by the Enforcement Directorate in the Delhi excise policy case, posters featuring senior Bharatiya Janata Party leader B L Santhosh with 'wanted' and 'missing' written on them sprung up at some places in Hyderabad on Thursday.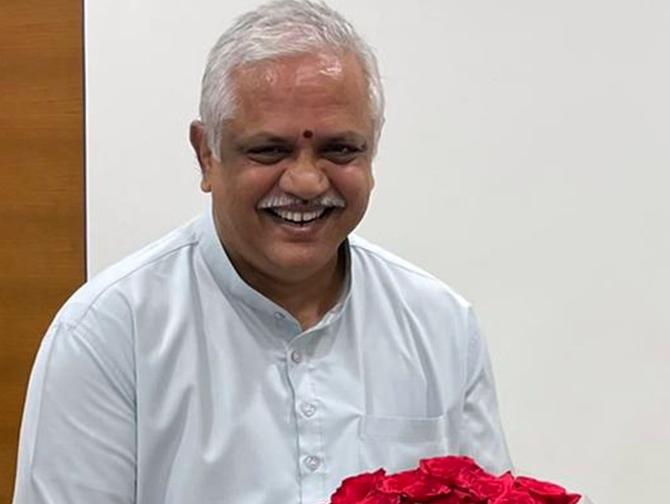 BJP in Telangana alleged that the ruling BRS is behind the posters.
The posters had tag lines of 'talented in MLA poaching' and 'Reward - Sanction of Modi's promise of Rs 15,00,000'.
The allegations in the posters against Santhosh, the party's national general secretary (organisation), refer to the Telangana police seeking to question him in the case of alleged attempt to poach some BRS MLAs last year.
An SIT of the state police had sent notices to Santhosh seeking his appearance before it in connection with the case.
The SIT had also sought to name him in the case as an accused but the high court rejected its plea.
The Telangana High Court had earlier transferred the probe into the case to the Central Bureau of Investigation (CBI) and the matter is in the Supreme Court at present.
The ED has issued a fresh summons for March 20 to BRS leader K Kavitha in the Delhi excise policy money laundering case, after she skipped Thursday's notice citing her pending plea before the Supreme Court where she has sought protection from arrest and quashing of summons in the case, officials said.
When contacted, BJP spokesperson in Telangana N V Subhash alleged that the ruling BRS is behind the posters.
"How is he (Santhosh) concerned? He is not hiding. He is accessible. To say that he is 'missing' and 'wanted', they are making themselves a laughing stock," he claimed.
Asked about the posters featuring Santhosh who was an RSS pracharak earlier, Kacham Ramesh, Prant Karyavah of Rashtriya Swayamsevak Sangh in Telangana, said it is laughable to go around sticking posters that the BJP leader is missing.
Santhosh has an address and also attends various programmes, Ramesh said, adding that there is no need to bother much about allegations made with a political motive.
Asked if any steps in support of Santhosh would be taken by the RSS, he said it is for the BJP to see if any legal steps are to be taken as he is working in the party.