In a span of two months, leaders of various political parties descended south to join two anti-Bharatiya Janata Party gatherings with an eye on the 2024 Lok Sabha polls, although the central characters differed a lot.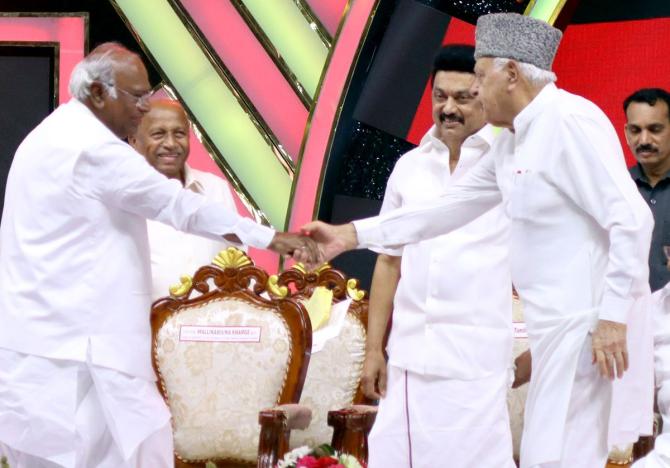 While Telangana Chief Minister K Chandrashekar Rao has made his national ambitions amply clear, even rechristening his party to aid the process, his Tamil Nadu counterpart M K Stalin insists he is already in the national scene and used his birthday rally on March 1 to not only strongly pitch for the Congress as a force to reckon with in the efforts to dislodge the Narendra Modi-led dispensation at the Centre, but also sought to shoot down the prospects of a Third Front.
Rao and Stalin have proved to be regional satraps who can take on the might of the BJP and both were seen in the company of top national leaders recently.
If the January 18 meeting convened by Bharat Rashtra Samiti (BRS), the erstwhile Telangana Rashtra Samiti, in Khammam saw a clarion call for a regime change in New Delhi next year, the Chennai rally organised to mark Stalin's 70th birthday, harped on opposition unity.
While the BRS-led meeting stood determined on the need for a change of government at the Centre, the speakers at the Chennai event underlined the common connect of a socialist vision that binds them together while leaders including Samajwadi Party leader Akhilesh Yadav and National Conference president Farooq Abdullah batted for Stalin to take up a bigger national role.
Congress chief Mallikarjun Kharge said his party and the Dravida Munnetra Kazhagam shared a common social vision.
It is anybody's guess that the parties have set their eyes on making a rich harvest of the 40 parliamentary seats up for grabs in Tamil Nadu and Puducherry.
Incidentally, in 2004, under then DMK chief, the late M Karunanidhi's leadership, the alliance won all 40, giving UPA-I the much-needed numbers to form a government under Prime Minister Manmohan Singh.
Political analyst Ramu Suravajjula said the meeting organised in January by KCR, as Rao is popularly known, at Khammam was seen as the Telangana chief minister's mega show of strength projecting his national ambitions.
However, his political dilemma was on display at the public meeting, Suravajjula opined.
KCR neither spelt out the BRS agenda, nor did he leave a hint about his political friends at the national level.
The visiting leaders, which included Chief Ministers of Kerala and Delhi, Pinarayi Vijayan and Arvind Kejriwal, respectively, besides Communist Party of India top leader D Raja, also did not declare KCR as their leader, he said.
An observer of Tamil Nadu politics said a Third Front may not have its desired impact and pointed out at the ambitious 'Makkal Nala Kootani' (People's Welfare Front), headed by actor-politician Vijayakant's Desiya Murpokku Dravida Kazhagam (DMDK), coming a cropper in 2016 assembly polls in that state, even as the All India Anna Dravida Munnetra Kazhagam (AIADMK) secured a rare successive term in a close fight involving the DMK.
The DMDK-led alliance included Marumalarchi Dravida Munnetra Kazhagam (MDMK) and the two Left parties, who are now part of the DMK-led bloc.
Suravajjula said, Stalin, during his birthday celebrations in Chennai, displayed political pragmatism.
KCR got alienated in his fight against the BJP with Kharge and Stalin sending out a message loud and clear that no coalition meant to effectively take on the BJP can succeed without the Congress, he said.
Some insist that the Rao-led meeting largely spoke about dethroning the BJP-led central government while the participants of the Chennai gathering made a conscious push to brand the bloc as pro-social justice and ideologically oriented.
Chennai-based political observer Sathyalaya Ramakrishnan said both groupings wanted to see the back of Modi in 2024 but were confused on who should lead.
"There is lot of confusion among the opposition parties on who should lead an alliance. These kinds of confusions and non-cooperation will lead Modi to form his own government for the third time next year," he said.
Ramakrishnan indicated that even after the Khammam meeting, national leaders did not show interest in projecting KCR as a PM candidate, but that Abdullah had even supported the "Stalin for PM" slogan emanating mainly from Tamil Nadu and the DMK leader's supporters.
Another political analyst Telakapalli Ravi said Congress was the major contrast between the two meetings.
While the grand old party is a rival of the BRS in Telangana, Stalin gave a respectable place to Congress by inviting it to his birthday celebrations in Chennai, he said.